Organizations' vital data and core assets, such as customer information, intellectual property, and transaction records, are stored in data centers, and the security of these assets is a top priority for the company. By offering immunity at several levels, security solutions aid in the protection and safekeeping of these essential assets.
Some of the major factors driving the growth of the data center security market include an increase in data center infiltration and increased security concerns about curtailing data and vital infrastructure. However, a lack of understanding of solutions and their benefits is a major problem that could limit the data center physical security market's growth. Furthermore, the growing number of new data centers in emerging economies is expected to provide new growth prospects for data center security market participants.
The global data center security market size is predicted to reach over USD 11.9 billion in 2020 and projected to grow at a CAGR of 13.6% over the forecast period. It is expected to gain traction in the coming years as consumers become more aware of threats to national security and sovereignty, as well as the massive increase in online traffic, the rapid shift to cloud-based infrastructure, the rise in cyber-attacks, and the need to implement a comprehensive security policy.
Furthermore, there have been increased efforts at the international and national levels to regulate the government and industry in terms of data integrity and privacy. Disaster recovery, incident response, and event management systems, together with the increased demand for risk and compliance management systems, will drive up demand for integrated data center security around the globe.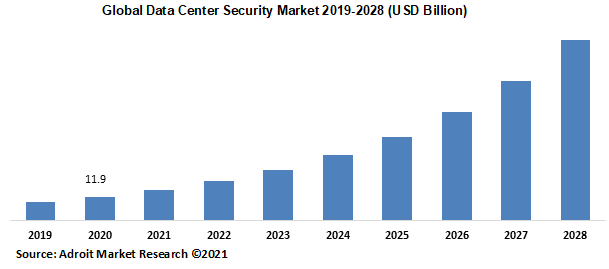 Companies appear to be finding it more difficult to plan a data center budget since there are so many elements to consider, not simply resource, volume, or power usage growth. License-plus-maintenance software agreements are dwindling in popularity. Subscription-based pricing is becoming more popular as providers respond to client demands. Some of these are delivered as software as a service, which eliminates the costs of the underlying stack from the data Center budget.
Key Segments of the Global Data Center Security Market
Solution Overview, 2019-2028 (USD Billion)
Physical Security Solutions
Logical Security Solutions
Service Overview, 2019-2028 (USD Billion)
Consulting
Integration and Deployment
Managed Services
Data Center Type Overview, 2019-2028 (USD Billion)
Mid-Sized Data Centers
Enterprise Data Centers
Large Data Center
Industry Vertical Overview, 2019-2028 (USD Billion)
BFSI
IT and Telecom
Government and Defense
Healthcare
Media and Entertainment
Others
Regional Overview, 2019-2028 (USD Billion)
North America
Europe
UK
Germany
France
Rest of Europe
Asia Pacific
China
Japan
India
Rest of Asia-Pacific
Middle East and Africa
UAE
South Africa
Rest of Middle East and Africa
South America
Brazil
Rest of South America
Reasons for the study
The purpose of the study is to give an exhaustive outlook of the global data center security market. Benchmark yourself against the rest of the market.
Ensure you remain competitive as innovations by existing key players to boost the market.
What does the report include?
The study on the global data center security market includes qualitative factors such as drivers, restraints, and opportunities
The study covers the competitive landscape of existing/prospective players in the data center security industry and their strategic initiatives for product development.
The study covers a qualitative and quantitative analysis of the market segmented based on solution, service, and industry vertical. Moreover, the study provides similar information for the key geographies.
Actual market sizes and forecasts have been provided for all the above-mentioned segments.
Who should buy this report?
This study is suitable for industry participants and stakeholders in the global data center security market. The report will benefit every stakeholder involved in the data center security market.
Managers within the data center security industry looking to publish recent and forecasted statistics about the global data center security market.
Government organizations, regulatory authorities, policymakers, and organizations looking for investments in trends of the global data center security market.
Analysts, researchers, educators, strategy managers, and government institutions looking for insights into the market to determine future strategies.
Frequently Asked Questions (FAQ) :
Data Center Security Market Projected To Grow At A CAGR Of 13.6% by 2028
North America held the greatest market share for data center security
The world data center security market is segmented based on solution, industries, service and geography
Due to a growth in the number of firms embracing cloud computing platforms and virtualization techniques for their corporate information storage, the market is expected to develop at a remarkable rate over the projection period. These contribute to the network's vulnerabilities at several levels, highlighting the necessity for comprehensive logical and physical security measures to be adopted and implemented.
Furthermore, workplace virtualization, the emergence of software-defined storage, software-defined networking, and the growing trend of bring your own device (BYOD) make information security even more vulnerable to malware attacks and intrusion threats, resulting in additional control and surveillance issues in data Centre infrastructure. This deluge of new technologies is projected to drive need for further defensive measures and improvements of existing systems, such as virtualized infrastructure layers, authorization, and filtering, to protect them from a variety of attacks.
Furthermore, there is an increasing requirement to integrate security measures without jeopardizing network scalability or speed. This has necessitated the creation of a regulated environment as well as the adoption of preventative measures at multiple levels, including physical, logical, and virtual. As a result, industry players are constantly updating their product offerings to maintain a competitive edge, with a focus on new technology development and substantial research and development operations, resulting in a dynamic and volatile data Centre security market over the projection period.
The adoption of new technologies, the advent of Software Defined Data Centers (SDDC), and the massive quantity of traffic created by the Internet of Things and online transactions are likely to propel the market even higher throughout the projection period.
Solution Segment
Based on the solution segment, the market is bifurcated into physical security solutions, and logical security solutions. In 2020, the physical security solutions segment accumulated the maximum market share and it is likely to continue its dominance throughout the forecast years.
Servers and storage devices are among the components found in a data center. Physical security of these components entails safeguarding against external threats and intrusions that could disrupt corporate operations. Video surveillance via cameras, access control systems, and perimeter security are all part of data center physical security. The expanding popularity of data centers, as well as the adoption of innovative products, has increased the demand for data center physical security. The physical security of the data center will allow for effective monitoring as well as restricted access to sensitive data.
Service Segment
Based on the service, the market is segmented into consulting, integration and deployment, and managed services. In 2020, integration and deployment segment is anticipated to hold major market share among others. System integration and deployment is the process of connecting several sub-systems (components) into a larger system. All physical and virtual components of an organization's system are covered by this function. The factors driving the growth of the system integration & deployment segment include increased investment in distributed information technology systems, increased development in the automation sector, increased use of internet of things (IoT) in industrial automation, increased safety and security concerns, and increased demand for low-cost, energy-efficient production processes.
Data Center Type Segment
Based on the data center type, the market is segmented into mid-sized data centers, enterprise data centers, and large data center. The mid-sized data centers segment is expected to grow at rapid pace over the forecast period. Security solution usage is expanding in mid-sized and business data centers, owing to the increasing acceptance of security solutions in such data centers.
Industry Vertical Segment
Based on the industry vertical, the market is segmented into BFSI, IT and telecom, government and defense, healthcare, media and entertainment, others. The BFSI sector is expected to dominate the market in 2020. Regulatory agencies keep close eye on financial institutions, banks, insurance firms, and financial markets all over the world, and they are made to put a great emphasis on conformity to respective authorities' standards and compliances. The BFSI business relies on data centers to store and secure its customers' sensitive and personal information, which is vulnerable to cyber threats and data breaches. Hacking and incursions are two of the most significant threats that the BFSI sector faces. For financial organizations that are heavily focused on preventing hacking, a high rate of adoption of new technology has become an unavoidable requirement.
The North America region is likely to account for the maximum market share during the forecast period. In 2019, North America held the greatest market share for data center security, and the region would provide market vendors with many growth possibilities over the projected period. The growing popularity of software-defined data centers (SDDC) will have a major impact on the market for data center security in this region. In the region, the United States is the most important market for data center security solutions.
Due to rising IT spending and increased cloud usage in small and medium businesses in the region, Asia Pacific is likely to be the fastest-growing market in the next years.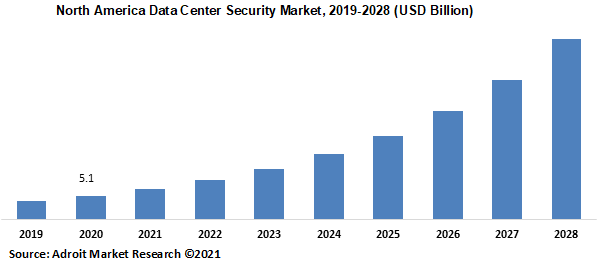 The major players of the global Data Center Security market are IBM, MacAfee, HP, Schneider Electric, Dell, Symantec, Check Point Software Technologies, Cisco Systems, Juniper Networks and Fortinet, Inc. These players have adopted various strategies, such as new product launches, partnerships, agreements, collaborations, mergers & acquisitions, and business expansions to cater to the needs of the data center security market. Renowned companies are offering new and modern Data Center Security Physical Security Solutions. Besides, the previously recognized as well as new market players are approaching the market with advanced and new strategic services & solutions and to remain competitive in the global market.