The market size for the global Customer Experience Management Market is anticipated to reach USD 21.13 billion by 2028. Surging demand for personalized experience by customers across various industries is the key trend in accelerating market growth. Customer Experience Management Makrethas sets of practices and technologies to transform within organizations to meet consumer expectations.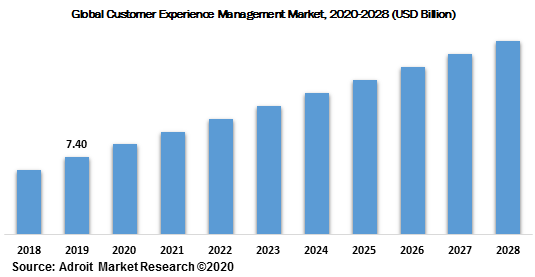 Advancement in technologies is changing the way customer reacts and interacts with brands across channels. Currently, consumers use various devices to understand, introspect, and finalize products. This disruption in digital technology has encouraged consumers to demand seamless experience while interacting with companies over various channels. Owing to the rise in customer expectations, organizations are changing their Customer Experience Management Makretstrategies to position and reposition their brands and products, keeping consumers as the strategic focus.
Segment Overview of Customer Experience Management Market
Software Overview, 2018-2028 (USD Billion)
Software

Omni – Channel
Machine Learning
Analytics
Workforce Optimization

Services
Touch-point Segment Overview,2018-2028(USD Billion)
Website
Store
Call Center
Mobile app
Social Media
Email
Virtual Assistant
Others
Deployment Mode Overview, 2018-2028 (USD Billion)
Organization Size Overview, 2018-2028 (USD Billion)
Vertical Overview, 2018-2028 (USD Billion)
Telecommunication and IT- Enabled Services
Banking, Financial Services, and Insurance
Media and Entertainment
Retail and Consumer Goods
Healthcare
Automotive
Travel and Hospitality
Public Sector
Others
Regional Overview, 2018-2028 (USD Billion)
North America
Europe

UK
Germany
France
Rest of Europe

Asia Pacific

China
Japan
Singapore
Australia & New Zealand
Rest of Asia-Pacific

Middle East and Africa

Kingdom of Saudi Arabia
Qatar
South Africa
Rest of Middle East and Africa

South America
Brazil
Mexico
Rest of South America
Reasons for the study
The purpose of the study is to give an exhaustive outlook of the global workplace market.
Ensure you remain competitive as innovations by existing key players to boost the market.
What does the report include?
The study on the global Customer Experience Management Market includes qualitative factors such as drivers, restraints, and opportunities
The study covers the competitive landscape of existing/prospective players in the Customer Experience Management Market and their strategic initiatives for the product development
The study covers a qualitative and quantitative analysis of the market segmented based on Softwares, organization size, and vertical. Moreover, the study provides similar information for the key geographies.
Actual market sizes and forecasts have been provided for all the above-mentioned segments.
Who should buy this report?
This study is suitable for industry participants and stakeholders in the global Customer Experience Management Market. The report will benefit:
Every stakeholder is involved in the Customer Experience Management Market.
Managers within the Tech companies looking to publish recent and forecasted statistics about the global Customer Experience Management Market.
Government organizations, regulatory authorities, policymakers, and organizations looking for investments in trends of the global Customer Experience Management Market.
Analysts, researchers, educators, strategy managers, and academic institutions looking for insights into the market to determine future strategies.
Advancements in big data analytics have helped enterprise improve their end-to-end consumer experience management which drives the market. Key points of poor consumer experiences understand customer trends and have provided measurable direction to improve operational efficiencies and consumer experiences of an organization. Furthermore, increasing investments towards the implementation of advanced technologies has helped consumers undertake cognitive decisions with an effort to develop enhanced Environmental Hazard Monitoring software, and also contributing to market growth.
Touch-Point Segment
The mobile touchpoint type segment is anticipated to post highest over the forecast period. The growth of the segment can be related to the increase in the use of smartphones, which is encouraging enterprises to develop mobile marketing and communication strategies. Demand for text will remain high throughout the forecast period.
The increasing generation of text-based data in the form of feedback, and reviews across several platforms and offline survey systems is one of the factors contributing to segment growth. Text analytics tools help enterprises to understand unstructured text-based data and gain insights through social media comments and product reviews. They enable the organization to provide real-time responses and reduce manual efforts. Owing to these benefits, various number of organizations are using text analytical tools for text classification and in-depth analysis of unstructured customer data
Deployment Segment
Based on deployment, the Customer Experience Management Market has been segmented into the cloud and on-premises. The cloud-based segment is estimated to have the highest significant size in terms of revenue by 2028, Cloud technology has usage of low-cost integration of Customer Experience Management Makretsystem within the current business environment. Cloud-based Customer Experience Management Makretis accepted for its scalability and flexibility.
Organization Size Segment
The organization segment is divided into Small and Medium-sized Enterprises (SMEs). Large enterprises will have the highest market size. Large enterprises have the affordability to adopt large scale economies to deploy various Softwares.
Vertical Segment
Based on the vertical, the market is segmented Telecommunication and IT- Enabled Services, Banking, Financial Services, and Insurance, Media and Entertainment, Retail Others), Among these verticals, the healthcare vertical will grow at the highest CAGR during the forecast period. The increasing usage of smartphones to conduct transactions has enabled more personal engagement, seamless banking through the mobile channel for consumers. This trend has increased both the potential and complexity of creating a positive customer experience through management.
The global Customer Experience Management Market is a wide range to North America, Europe, APAC, South America, and the Middle East & Africa. North America will have the largest market size increase in the coming years. Furthermore, increasing marketing and digital channels among the enterprises in U.S. and Canada is another factor contributing to market growth. The market in the Asia Pacific will witness at the highest CAGR over the forecast period. The increasing adoption of IoT-based devices and sensors as well as advanced analytics tools has offered personalized services to both B2B and B2C consumers is the major factors contributing to the growth of the regional market.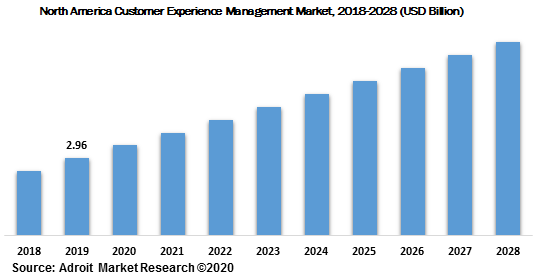 The major players of the Digital Workplace Market are Microfocus, Broadcom, Atlassian, Microsoft, IBM, and more. The Customer Experience Management Market is fragmented with the existence of well-known global and domestic players across the globe