Countertops are elevated platforms with a flat surface that are commonly found in kitchens, baths, and labs. Depending on the linguistics of the region, the counters are referred to as workstations, kitchen benches, or bench-tops.
Covid-19 Impact & Market Status
The global pandemic has slowed the growth of the countertop market tremendously. Due to the closure of industrial and building sites, as well as hotels, demand has switched to basic goods, which has harmed the growth of the countertops industry. Because of labour restrictions and a lack of raw materials in many nations, the manufacturing of countertops has decreased dramatically. Due to trade constraints, the supply chain for countertops has been affected.
The size of the global market for Countertops is expected to reach USD 164.3 billion by 2029, expanding at a compound annual growth rate (CAGR) of 5.1 %.
After the Covid19 epidemic, the High-End Kitchen Countertop Industry was expecting massive growth following a step decrease. Furthermore, there has been a rise in mortgage refinances and bank loans, which have resulted in more credit being available for the renovation of existing homes, giving the countertop market a boost. As a result, a steady increase in countertop sales is related to an increase in residential building and private spending on residences. The value of the countertop industry is expected to increase due to a growing preference for higher-priced materials over laminates.
Manufacturers are focusing more on long-term sustainability and implementing essential tactics to maintain their position in the business throughout this pandemic. This study contains detailed information on business growth and development strategies that will assist industry players in addressing the impact of the pandemic on the High-End Kitchen Countertop industry. Because the COVID-19 pandemic is still raging, COVID-19 will have an influence on the global market. COVID-19's effects on the upstream, midstream, and downstream industries are covered in this study.
Furthermore, this study offers an in-depth market analysis by highlighting data on a variety of market characteristics such as market drivers, obstacles, opportunities, threats, and industry news and trends. This report includes a detailed historical analysis of the global market for High-End Kitchen Countertop from 2015 to 2020, as well as market predictions for the years 2021 to 2030 by region/country and subsectors. It examines the High-End Kitchen Countertop market's sales volume, price, revenue, gross margin, historical growth, and future prospects.
Countertops made of granite are the most popular.
Throughout the world, the countertop market is on the rise. One positive aspect of this progression is that, as a result of the high level of quality and low cost, more people are opting for granite countertops. Granite is very popular with customers because of its great aesthetic appeal. In 2018, the granite material type segment accounted for more than one-fourth of the material type category's revenue share. Granite countertops have become a popular choice among customers in recent years, particularly for household applications such as kitchen and bathroom designs. Granite products are scratch-resistant, crack-resistant, and heat-resistant, all of which are likely to promote their acceptance in the projection term. Furthermore, granite countertops have a two to three times longer lifetime than laminate and quartz countertops, which is why the material is gaining a wider customer base.
Kitchens are the largest market for countertops.
The best opportunity for countertops is expected to continue to be the kitchen market, which is supported by a huge residential market. Because of the surge in interest in large kitchens and regular kitchen remodelling, the kitchen is often the first site in growing countertop markets where consumers choose to install worktops, since competition from pedestal sinks has a grip in bathrooms. To suit client expectations, most kitchen cabinet manufacturers create durable and attractive products. Granite is a popular material for platform kitchen cabinetry because of its low cost and wide range of colours and textures.
The Asia-Pacific region is expected to grow at the fastest rate.
In 2018, the Asia-Pacific area was one of the most important markets for Countertops. In the projection period, the Asia Pacific region is expected to see increased sales of Countertops, mainly in growing economies such as India and China. Countertop product demand is predicted to expand in China, which is Asia's fastest-growing market for countertop products, due to factors such as rising consumer living standards and ongoing initiatives aimed at updating housing and non-residential building units. India is the region's second-fastest-growing market, and the country is expected to see an increase in countertop product sales as a result of factors such as economic growth, rising disposable income, distribution network expansion, and construction sector growth.
The utility of countertops is demonstrated by the fact that they are required in modern kitchens, luxurious bathrooms, and cutting-edge laboratories.
Countertops are also multi-purpose platforms that can be used for a variety of purposes, which is why they are so popular. Countertops have progressed from simple concrete platforms to multi-purpose platforms that can be installed over cabinets and other low-profile furniture.
Due to the extensive usefulness supplied by countertops, the global countertop market is expected to generate significant profits in the coming years. The global countertop market is expected to reach USD 110.54 billion by 2028, growing at a CAGR of 2.8 percent over that time.
The global countertop industry is on the rise because to a number of factors, including rising employment rates, rising disposable incomes, and low mortgage rates, notably in the United States, which have boosted demand for residential construction.
As a result, the worldwide countertop market is constantly expanding as residential building and private spending on home improvements continue to rise. Countertops are typically installed in new homes as well as during kitchen remodeling.
The decline in the price of granite stone adds to this predicament. This is especially true in the countertop sector in the United States, where low-cost imports have increased the flow of granite.
Since the last decade, a constant supply of low-cost granite has made this material popular and widely available in the mass market in the United States. As a result of its high level of aesthetics and relatively inexpensive cost, granite countertops are becoming increasingly popular among consumers.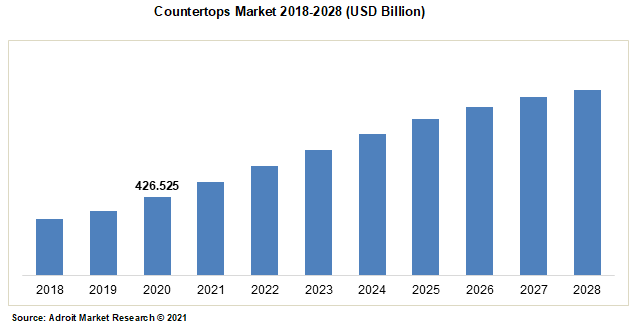 VICOSTONE, Caesarstone, Pokarna Ltd, DuPont., Cosentino S.A., COSENTINO, S.A., AKG Group, Cambria, Aro Granite Industries Ltd., Asian Granito India Limited, STRASSER Steine GmbH, Wilsonart LLC., ARISTECH SURFACES LLC, and other domestic and global players are among the major players covered in the countertops market report. Global, North America, Europe, Asia-Pacific (APAC), Middle East and Africa (MEA), and South America market share data are all accessible separately. DBMR analysts are familiar with competitive advantages and give competitive analysis for each rival individually.
Latest Innovations in the Countertops Market: a Snapshot
• Masco Corporation said in March 2019 that the assessment of its Windows and Cabinetry divisions had been completed successfully. As a result, the company intends to begin selling UK Window Group, Milgard Windows, and Masco Cabinetry in the next nine months.
• Pokarna Engineered Stone Ltd. partnered with IKEA India in January 2017 to distribute items to its exclusive installation partner and quartz surface supplier. IKEA clients will be able to order engineered quartz countertops and surfaces from Pokarna.
Countertops Market Scope
| | |
| --- | --- |
| Metrics | Details |
| Base Year | 2020 |
| Historic Data | 2018-2019 |
| Forecast Period | 2021-2028 |
| Study Period | 2018-2028 |
| Forecast Unit | Value (USD) |
| Revenue forecast in 2028 | USD 110.54 billion |
| Growth Rate | CAGR of 2.8% during 2021-2028 |
| Segment Covered | Market by Type, By Application, Regions |
| Regions Covered | North America, Latin America Europe, Asia Pacific, Latin America, Middle East & Africa |
| Key Players Profiled | VICOSTONE, Caesarstone, Pokarna Ltd, DuPont., Cosentino S.A., COSENTINO, S.A., AKG Group, Cambria, Aro Granite Industries Ltd., Asian Granito India Limited, STRASSER Steine GmbH, Wilsonart LLC., ARISTECH SURFACES LLC |
Key Segments of the Countertops Market
Laminates
Engineered Stone
Natural stone
Other materials
By Application
Residential
Commercial
By Region
North America
US
Mexico
Canada
Latin America
Europe
Germany
UK
France
Italy
Spain
Rest of Europe
Asia Pacific
China
Japan
India
Australia
Malaysia
Thailand
Indonesia
Rest of Asia-Pacific
Middle East & Africa
Middle East
Brazil
Rest of LAMEA
Frequently Asked Questions (FAQ) :
The countertop market is studied from 2018 - 2028.
The countertop market is growing at a CAGR of 2.8% over the next 7 years.
Asia-Pacific is growing at the highest CAGR over 2021- 2028.
VICOSTONE, Caesarstone, Pokarna Ltd, DuPont., Cosentino S.A., COSENTINO, S.A., AKG Group, Cambria, Aro Granite Industries Ltd., Asian Granito India Limited, STRASSER Steine GmbH, Wilsonart LLC., ARISTECH SURFACES LLC