The global contract manufacturing of injectable drugs market was valued at USD 12.5 billion in 2018 and is expected to grow at a CAGR of 11.3% over the forecast period. Increasing prevalence of chronic diseases, fostering demand for biologics in coming years along with patent cliff are key factors driving the growth of the global contract manufacturing of injectable drugs market.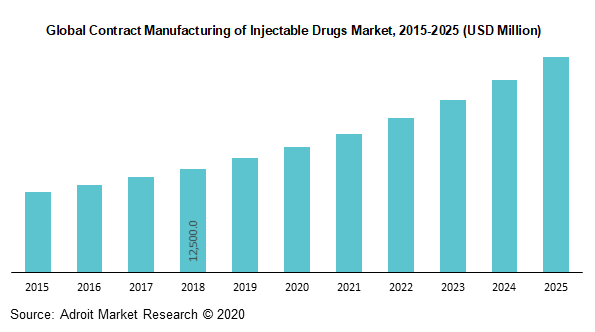 The global contract manufacturing of injectable drugs market is categorized based on application, product, technology and end user. Region wise, North America was the largest market in 2018, valued at USD 700 million; however, Asia Pacific is expected to be the fastest growing region by 2025, with a CAGR of over 16%.
Key players serving the global contract manufacturing of injectable drugs market include Jubilant Life Sciences, Ltd., Boehringer Ingelheim, Pfizer CentreOne, Aenova Group, Baxter Biopharma Solutions, Recipharm AB, Lonza, Famar Health Care Services, Patheon Inc., Catalent Inc, Almac Group, Evonik Industries AG, Siegfried Holding AG, Consort Medical Plc, and Grifols SA.
Key segments of the global contract manufacturing of injectable drugs market
Type Overview, 2015-2025 (USD Million)
Small Molecule
Large Molecule
Sterilization Technologies Overview, 2015-2025 (USD Million)
Chemical & Gas Sterilization
Filtration Sterilization
Radiation Sterilization
Thermal Sterilization
Application Overview, 2015-2025 (USD Million)
Anti-Infective
Blood
CNS
Diabetes
Hormones
Musculoskeletal
Oncology
Regional Overview, 2015-2025 (USD Million)
North America
Europe

Germany
United Kingdom
France
Spain
Rest of Europe

Asia Pacific

China
Japan
India
Rest of Asia Pacific

Central and South America

Brazil
Mexico
Rest of Central and South America

Middle East & Africa

GCC
Rest of Middle East and Africa
Reasons for the study
The purpose of the study is to give an exhaustive outlook of the global contract manufacturing of injectable drugs industry
The overall segmentation of contract manufacturing of injectable drugs market, especially key segments such as type, sterilization technologies, and applications are thoroughly studied. Knee braces and supports hold the maximum share and is anticipated to continue growth till 2025
Presence of major players and their wide product portfolio across developed countries is anticipated to further boost the growth of contract manufacturing of injectable drugs market
What does the report include?
The study on the global contract manufacturing of injectable drugs market includes analysis of qualitative market indicators such as drivers, restraints, challenges and opportunities
Additionally, the market competition has been evaluated using the Porter's five forces analysis
The study covers qualitative and quantitative analysis of the market segmented on the basis of applications, product, technology and end user. Moreover, the study provides similar information for the key geographies.
Actual market sizes and forecasts have been provided for all the considered segments
The study includes the profiles of key players in the market with a significant global and/or regional presence
Who should buy this report?
The report on the global contract manufacturing of injectable drugs market is suitable for all the players across the value chain including raw material suppliers, contract manufacturing of injectable drugs providers, pharmaceutical and medical device manufacturers, distributors, suppliers and retailers
Venture capitalists and investors looking for more information on the future outlook of the global contract manufacturing of injectable drugs market
Consultants, analysts, researchers, and academicians looking for insights shaping the global contract manufacturing of injectable drugs market
Oncology is an attractive market to develop drugs for, as there is high unmet need, translating to considerable opportunity for market penetration and generating substantial product revenues. Globally, cancer is the second leading cause of death which was responsible for over 9 million deaths in the year 2018. The serious, aggressive nature of cancer and the lack of curative treatments contribute to poor patient prognosis and low overall survival. Therefore, immediate treatment is crucial. This has led to the traditional use of potent, standard of-care treatments, such as chemotherapy and radiotherapy, which are associated with toxic side effects. The prospect of extending overall survival in cancer patients has driven interest in the burgeoning field of immuno-oncology.
Checkpoint inhibitors Opdivo and Keytruda are programmed death-1 (PD-1)-targeted monoclonal antibodies, and are the most recently launched drugs to enter the ranks of the top 10 highest-selling drugs globally. Furthermore, the growing field of personalized medicine has paved the way for the stratification of cancer patients by pharmacogenetic biomarkers in targeted clinical trials, which appears to have a positive effect on a drug's overall clinical program and likelihood of approval. The high prices that can be charged for oncologic drugs, especially with various rare cancer indications, also accounts for their lucrative product revenues. Biologic therapies are more complicated to develop and manufacture, therefore they are priced more dearly. Only two of the most profitable brands are oral small molecules, while the rest are injectable biologics. Revlimid and Xarelto boast convenient oral treatment modalities and have lower list prices than many of the other best-selling drugs.
The global contract manufacturing of injectable drugs market has been segmented based on type, application, and sterilization technologies. Based on sterilization technologies, the market is categorized into chemical & gas sterilization, filtration sterilization, radiation sterilization, and thermal sterilization. In 2018, radiation sterilization held substantial market share accounting for more than 37%.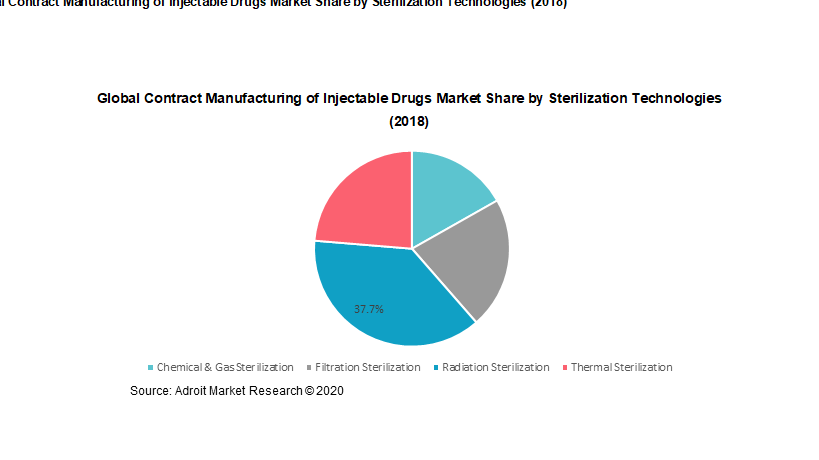 The usage of radiation sterilization is an established technique & is being used widely by pharmaceutical companies. Sterilization of parenteral products by radiation has its own advantages & disadvantages.
Different forms of radiation can be used to sterilize parenteral products. There are x-rays, gamma rays and electron beams in these various forms of radiation. Over the decades, in pharmaceutical companies, sterilization of parenteral products by radiation & gas have increased.
Parenteral chemical radiation sterilization can be achieved by high-energy gamma radiation. X-rays are another option used for the sterilization of parenteral products. X-rays are produced when a material is hit by high-speed electron, which in turn allows the electromagnetic waves to emit. Gamma rays are the most widely used method of radiation sterilization as it destroys the contaminating microorganisms, while also sterilizes the parenteral product.
Parenteral drug radiation sterilization also has its drawbacks. This risk of damage to the parenteral products often involves the immobilization of the contaminating organism, because the radiation from either gamma rays, electromagnetic x-rays & electron beams cannot distinguish between the difference between the particles that make up the microorganism and the particles that make up the parenteral product. The contact between the radiation & the parenteral products will result in a chemical reaction that can harm or even change the parenteral products' chemical structure.
In order to avoid this, professional handling of radiation-based sterilization is very necessary. The materials undergoing radiation therapy should be in stable states. After the process, they should have minimal to zero degradation effects, whether they are part of the drug or medical device. Parenteral product sterilization by radiation is more expensive than other parenteral product sterilization methods. Nevertheless, it is becoming widely used by pharmaceutical companies as a method of sterilization.
The global contract manufacturing of injectable drugs market for radiation sterilization was valued at USD 415.2 million in 2018 and is expected to grow at a CAGR of 7.6% to surpass USD 600 million by 2025.
Based on regions, the global contract manufacturing of injectable drugs market is segmented into North America, Europe, Asia Pacific, Central and South America and Middle East & Africa.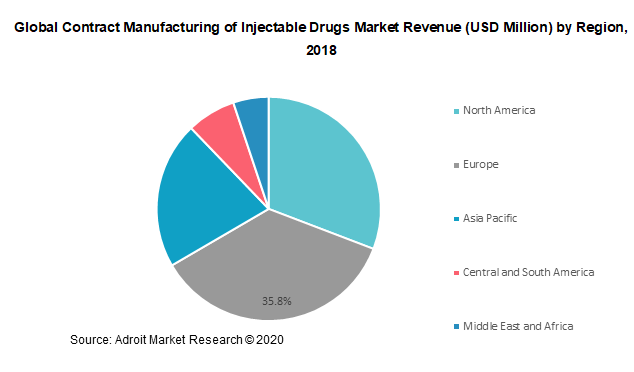 Europe currently holds the largest share in contract manufacturing of injectable drugs market owing to the presence of significant number of contract manufacturers for injectable in the region along with growing investments by contract manufacturers on using advance manufacturing processes. Furthermore, Asia Pacific is going to record growth at a faster pace on account of developing healthcare infrastructure.
The German CMO sector is also taking steps to stay firmly at the forefront of new developments. To have access to the newest innovations, such as those in cell and gene therapy or RNA-based approaches, larger suppliers in Germany are setting up start-up incubators and innovation centers to attract entrepreneurs from the life science sector. This makes it possible for CMOs to stay close to new technologies and methods. They are also able to establish contact with future clients from the outset; enabling them to address new challenges in the production and manufacturing process at the earliest possible stage. To stay ahead of the globalization trend, German corporations further focus on expanding their international networks and establishing more international branches.
As in the bioprocessing field, optimization is key to keeping cost efficiency at the highest level – making the need for innovation in the CMO sector high. Most technological advances in the recent years have been aimed at improving productivity and efficiency. New technologies also increase flexibility or serve as alternatives or supplements to standard production processes in accordance with the client's specific requirements. German companies are dedicated to providing the highest quality. For this reason, they are at the forefront of continuous optimization in bioprocessing, both upstream (i.e. producing the biomolecules) and downstream (i.e. the steps following harvesting) including testing, purification and packaging of the product. For a long time, upstream processing posed a greater challenge in terms of process improvements.
However, in the recent years, upstream processing techniques have made great strides towards removing capacity constraints in bio manufacturing and have increased yields. German contract bio-manufacturers still continue to introduce innovative technologies. Perfusion, for example, facilitates the constant renewal of the culture medium and the removal of waste and the actual product. This has the potential to accelerate production, making the process highly suitable for biological APIs that are prone to degradation. Perfusion also allows continuous bioprocessing, which is being heralded as a powerful solution for greater efficiency and productivity.