The global consent management services market revenue stood at USD 100.5 million in 2018 due to the presence of a large number of business communications that are government regulated, as well as the stringent consumer data protection laws. Furthermore, the incorporation of the European Union General Data Protection Regulation (GDPR) on May, 2018, which requires organizations around the world to seek the permission of all the citizens in the EU to process their personal data, is further driving the demand for global consent management services market. Companies around the globe are increasingly focusing on digital business efforts aimed at transforming the manner in which customers interact with products. Consent management enables a stable, safe, multi-channel client experience that has enabled developments in the way digital businesses operate. As the business transformation trend is gaining pervasiveness globally, companies are looking to procure consent management platforms that will substantially foster their company development in the consent management industry.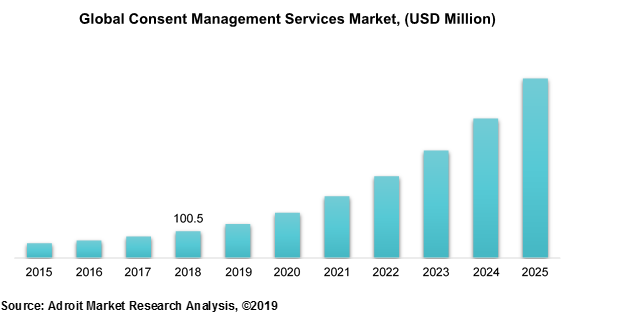 Consent Management Services Market Scope
| | |
| --- | --- |
| Metrics | Details |
| Base Year | 2019 |
| Historic Data | 2017-2018 |
| Forecast Period | 2020-2025 |
| Study Period | 2015-2025 |
| Forecast Unit | Value (USD) |
| Revenue forecast in 2025 | USD 100.5 million |
| Growth Rate | CAGR of 31.1% during 2021-2028 |
| Segment Covered | Type, Application, Regions |
| Regions Covered | North America, Europe, Asia Pacific, South America, Middle East & Africa |
Key segments of the Global Consent Management Services market
Type Overview, 2015-2025 (USD million)
Managed Services
Professional Services
Application Overview, 2015-2025 (USD million)
BFSI
IT and Telecom
Government
Healthcare
Higher Education
Retail and E-commerce
Others
Regional Overview, 2015-2025 (USD million)
Americas

U.S.
Canada
Mexico
Brazil

Europe

Germany
UK
Italy
France
Russia
Spain

Asia Pacific

China
Japan
South Korea
Southeast Asia
India
Australia

Middle East & Africa

Egypt
South Africa
Israel
Turkey
GCC
Reasons for the study
The study assesses the dynamics and movement of the global consent management services market across various geographies
While studying the global consent management services market, we observed that its demand was tremendous in regions such as Europe where data protection laws are stringent and that these regulations are the major driving factor of this market.
The market is fragmented and major players have their presence across the globe.
What does the report include?
The report focuses on consent management services market types and applications.
The study on the global consent management services market includes qualitative factors such as drivers, and restraints
The study covers qualitative and quantitative analysis of the market segmented on the basis of types, and application. Moreover, the study provides similar information for the key geographies
Actual market sizes and forecasts have been provided for all the above-mentioned segments.
The study includes the profiles of key players in the market with a significant global and/or regional presence.
Who should buy this report?
The report on the global consent management services market is suitable for consent management service providers.
Venture capitalists and investors looking for more information on the future outlook of the global consent management services market
Consultants, analysts, researcher, and academicians looking for insights shaping the global consent management services market.
Organizations around the world are looking at how to capture and handle consent data, particularly in the B2C industry. Some of these organizations see this as a significant challenge, whereas a majority envision this as a huge opportunity that can drastically transform their businesses.
| | |
| --- | --- |
| Key Applications and Potential Industries | Description |
| Banks | Because of their trusted and regulated position, banks traditionally play a part in the value exchange. As information exchange is increasingly charged with operational complexity and liabilities, banks can leverage this confidence to play a vital role in such consent transactions, thereby enhancing their access to company information. It enables the effectiveness of funding and risk procedures that contribute to the economic bottom line to be improved, helps to decrease costs to serve un-or under-addressed company sectors, e.g. long tail of SMEs, opening up extra markets, and helping to implement data-driven proposals as part of an open banking strategy to enhance company-client relationships. |
| Healthcare | Emerging concepts of healthcare management and delivery are increasingly dependent on the bidirectional exchange of patient data. It is a top priority to ensure that protected health information remains private and safe. Consent management has the ability to ensure that the organisation complies with the privacy and safety laws of patients as they share data throughout the healthcare network. |
Source: Adroit Market Research Analysis, 2019
However, along with the opportunities presented by the consent management services, the market faces its own set of challenges.
| | |
| --- | --- |
| Key Market Challenge | Description |
| Lack of Structured Data | Continued reliance on the use of paper or PDF consent forms results in the formation of unstructured data which often limits the digital consent management industry growth. Data segmentation relies on the existence of structured data. For instance, if patient consent forms are captured and processed as unstructured files (e.g., a PDF image), it will be challenging for any developer or HIO to manage patient consent directives in a sophisticated, automated way. |
| Compliance Complexity | Compliance with multiple privacy and confidentiality laws, regulations, and policies act as a barrier to adopting consent management solutions. These laws, regulations, and policies address both consumers consent rights and categories of information that are considered sensitive, and they may apply at various levels, including federal, state, regional, and organizational. Such compliance requirements can be complex, and depending on where a consumer and a provider are located, rules may conflict. This combination makes it more difficult to offer consumer consent options and to enforce consent decisions. |
| Costs and Sustainability | High costs to implement, update, and maintain health IT systems is a challenge to the target market. Absence of IT professionals in the respective industry, lack of ability to initially fund and maintain similar technologies is difficult to keeping system updated. This poses a sustainability challenge, both for keeping health IT systems current and for accepting future upgrades that will likely include more sophisticated consent management capabilities. |
Source: Adroit Market Research Analysis, 2019
The global consent management services market segmented on the basis of applications was dominated by IT and Telecom accounting for nearly 30% of the overall market in 2018. Increasingly, telecom businesses collect private information to tailor their proposals and create a competitive advantage. According to the EY Global Information Security Survey, 68% of telecommunications organizations have experienced a latest major cyber safety incident, around 42% of organizations address safety in fresh company procedures and techniques but not specifically privacy, 61% of organizations have no mandate to minimize or de-identify private information or only do so in a distinctive way.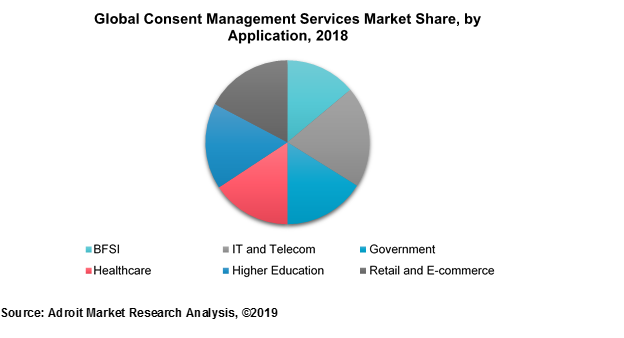 With the implementation of GDPR in 2018, the data privacy laws are called the largest overhaul. This has resulted in telecom businesses reorienting their business processes, revamping governance mechanisms, followed by income stream diversification. As delicate client information is component of its key activities, this has become a significant driver that has caused telecom businesses to implement consent management services. With an increasing risk of digital network breaches, it is essential that telecom companies offering services in the EU restructure the collection, storage and evaluation of huge client information in the GDPR ecosystem. This is expected to maintain the growth of IT and telecom segment in the coming years.
Europe generated the highest revenue in the global consent management services market accounting for approximately 27% of the overall market. Europe is a hub of technological innovations in line with economically developed nations. As a result, over half of Europe's internet users are more worried with their online security and approval than before. This is primarily credited to the ability of the region with customer-centered companies to stay digitally advanced. Consumer data is also the most important asset of the majority of businesses operating in the region, as the service sector dominates the market. Similar to European counterparts, these regulations aim to improve the control and transparency of consumers ' private information.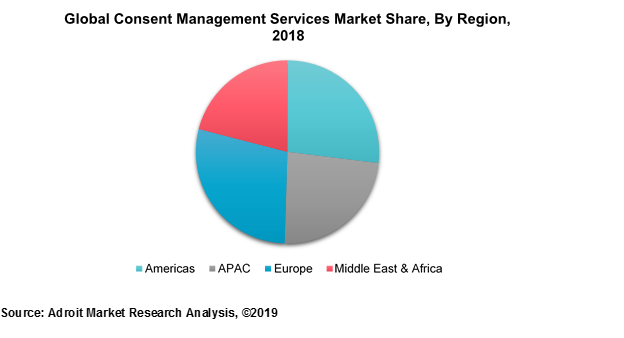 The GDPR is the major driving factor of the consent management service market in Europe. GDPR penalties are serious enough to warrant to attract the attention of the entire industry. Maximum penalties per infringement are set at 4% of the worldwide turnover of a company (or $20 million, whichever is greater). This is much more than the penalties permitted by the Data Protection Directive, and it indicates how severe the EU takes data privacy. India will also release legislation on data protection, as will the US. These laws will redefine business models and how the cloud works as a service. Startups have to build regulatory business, resulting in accelerated demand for the consent management services market.