Complex event processing (CEP) is a real-time organizational tool that helps to collect a large amount of data and identify and evaluate cause-and-effect links between occurrences. CEP compares continuously arriving events to a pattern and delivers information about what's going on.
The volume of data being stored is skyrocketing as the number of sensors and connected devices grows. The problem of evaluating this data in real time is a challenge in the typical DBMS method. Complex Event Processing (CEP) is a solution to this problem since it works on the stored query rather than the stored data.
Given that CEP queries are done on a potentially limitless stream of data, the advantages of the CEP technique are distinct. Furthermore, inputs are promptly processed. The system displays the results immediately once it has processed all of the events for a matched sequence. CEP's real-time analytics capacity is a result of this feature.
The global complex event processing market size was predicted to reach over USD 3.2 billion in 2020 and projected to grow at a CAGR of 27.5% over the forecast period. The demand for real-time data analytics has been expanding significantly in recent years, thanks to the internet revolution. Companies are investing heavily in industrial automation, which is fueling advances in machine learning. Furthermore, several industries, as well as Big Data, are making the web more difficult, which is pushing the demand for complex event processors.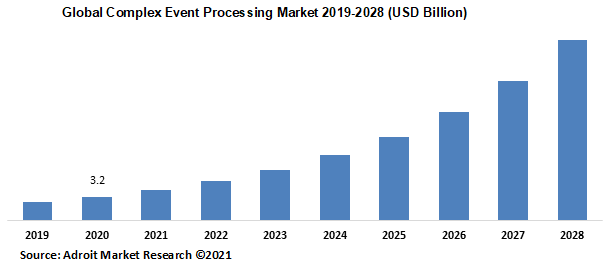 Modern organizations are becoming data-oriented as a result of growing trends and breakthroughs in technical changes, posing a greater danger of security breaches. Because most organizations are data-centric, they rely on corporate data for business decision-making, resulting in massive amounts of data being generated on a regular basis. As a result, data collecting, combining, and analytics technologies are critical for most businesses to preserve and secure data.
Key Segments of the Global Complex Event Processing Market
Application Overview, 2019-2028 (USD Billion)
Algorithmic Trading
Electronic Transaction Monitoring
Dynamic Pre-Trae Analytics
Data Enrichment
Fraud Detection
Governance, Risk and Compliance
Asset Management and Predictive Scheduling
Geo-fencing and Geospatial analysis
Others
Deployment Overview, 2019-2028 (USD Billion)
Service Type Overview, 2019-2028 (USD Billion)
Consulting
Installation and Maintenance
Training and Support
Managed Services
Regional Overview, 2019-2028 (USD Billion)
North America
Europe
UK
Germany
France
Rest of Europe
Asia Pacific
China
Japan
India
Rest of Asia-Pacific
Middle East and Africa
UAE
South Africa
Rest of Middle East and Africa
South America
Brazil
Rest of South America
Reasons for the study
The purpose of the study is to give an exhaustive outlook of the global complex event processing market. Benchmark yourself against the rest of the market.
Ensure you remain competitive as innovations by existing key players to boost the market.
What does the report include?
The study on the global complex event processing market includes qualitative factors such as drivers, restraints, and opportunities
The study covers the competitive landscape of existing/prospective players in the complex event processing industry and their strategic initiatives for product development.
The study covers a qualitative and quantitative analysis of the market segmented based on application, deployment, and service type. Moreover, the study provides similar information for the key geographies.
Actual market sizes and forecasts have been provided for all the above-mentioned segments.
Who should buy this report?
This study is suitable for industry participants and stakeholders in the global complex event processing market. The report will benefit every stakeholder involved in the complex event processing market.
Managers within the complex event processing industry looking to publish recent and forecasted statistics about the global complex event processing market.
Government organizations, regulatory authorities, policymakers, and organizations looking for investments in trends of the global complex event processing market.
Analysts, researchers, educators, strategy managers, and government institutions looking for insights into the market to determine future strategies.
The growing requirement for management and analytical capabilities for large amounts of data arising from operations is driving the use of complex event processing (CEP) technology in a variety of industries. Traditional data analysis software takes a long time to process, and their response time to a potential company danger is slow. As a result, demand for technologies like CEP, which may deliver rapid or real-time detection and response, is increasing. Furthermore, the CEP market is predicted to develop due to exceptional market risks, security threats, and the demand for simpler and consumer-oriented analytical software.
Transportation and logistics (predictive scheduling, asset management, and toll system management), healthcare (proactive monitoring and alerting, risk management, and compliance), IT and telecommunication (revenue assurance, mobile billboards, infrastructure management, and predictive call detail record (CDR) assessment), and IT and telecommunication (revenue assurance, mobile billboards, infrastructure management, and predictive call detail record (CDR) assessment) are among the application sectors of CEP software. Retail (inventory optimization, as well as real-time marketing and customer engagement), energy and utilities (oil and gas operation management and smart grid energy management), and manufacturing (shop floor automation, operational failure detection, and supply chain optimization) are just a few of the major applications.
CEP's largest market is North America, followed by Europe. These regions have seen a significant rise in data generated by business processes, necessitating real-time analysis.
Application Segment
Based on the application segment, the market is classified into algorithmic trading, electronic transaction monitoring, dynamic pre-trae analytics, data enrichment, fraud detection, governance, risk and compliance, asset management and predictive scheduling, geo-fencing and geospatial analysis, and others. In 2020, algorithmic trading was anticipated to grow significantly over the forecast period. Using the trading algorithm, i.e., the trading strategy, complex event processing uses the data received from the market data adapter to infer events or trends and take suitable steps to capitalize on opportunities and make judgments for order creation. In a nutshell, the CEP engine is where your approach will be implemented.
Deployment Segment
Based on the deployment, the market is segmented into cloud, and on-premise Currently, on-premise based CEP deployment has a bigger market share than cloud-based CEP deployment, but due to the rising acceptance rate of cloud technologies, the latter deployment model is predicted to overtake the former throughout the projection period. Due to many advantages like as cheap operational expenditure, easy deployment, scalability, and easy cooperation, large companies and small and medium enterprises (SMEs) are exhibiting strong interest in cloud-based CEP systems. Furthermore, as the mobile workforce and number of smartphone users grows, leading firms strive to provide convenient and easy-to-use applications.
Service Type Segment
Based on the service type, the market is segmented into consulting, installation and maintenance, training and support, managed services. Preventive maintenance processes for machinery, software, and equipment are covered under the maintenance, installation, and repair pathway. Troubleshooting and repairing digital, electrical, electronic, and mechanical systems are all part of this job.
In 2020, Asia-Pacific region is expected to develop at fastest pace with higher CAGR over the forecast period. Digital payments are being driven by developing countries' digitization programmes, such as India's, and banks are using blockchain technology. As a result, there is a higher demand for CEP solutions due to their ease of integration.
Government initiatives and huge multibillion-dollar technology agreements in the banking sector are driving growth in Asia-Pacific. Other factors, such as the growing demand for data storage among SMEs and the growing prevalence of smartphones, laptops, and tablets in the Asia-Pacific area, have boosted the demand for machine learning applications in the region.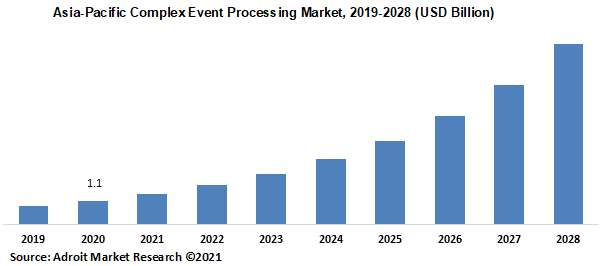 The major players of the global Complex Event Processing market are SAP SE, Oracle Corporation, Red Hat Inc., International Business Machines Corporation, Espertech, Inc., Tibco Software Inc., Software AG and Informatica Corporation. Renowned companies are offering new and modern complex event processing. Besides, the previously recognized as well as new market players are approaching the market with advanced and new strategic Deployments and solutions and to remain competitive in the global market.