The increasing trend of digitization payments is projected to magnify growth in the global Commerical Card Market
Covid-19 Impact & Market Status
The report offers an exhaustive overview of the business dynamics and new investment strategies that are being adopted by business leaders across countries and regions to overcome the acute challenges and financial instabilities that have emerged in the post pandemic times.
The report highlights some of the best industry strategies and practices that are adopted by the players across local and global markets. Ever since the Covid-19 broke out in 2019, it has spread aggressively, resulting in rapid declaration by the WHO affirming Covid-19 as a global pandemic and an emergency.
The impact of the pandemic is widespread and the aftermath is well pronounced, gravely affecting the global Commerical Card chip market. The sudden pandemic and its implications have posed significant challenges such as travel bans, quarantines, and lockdowns.
These developments are hampering operations resulting in supply chain breaches, stock market inefficiencies, and vendor chaos. These are constantly interfering with the normal functioning of industries.
Ever since the outbreak of the global crisis, impact on upstream, downstream, and midstream industries have been appalling. The report delivers a quick ready-to-deploy approach to counter such crisis and steer the global Commerical Card market towards steady growth and systematic progression.
Amidst the pandemic, aligning with new dynamics, global Commerical Card market has been witnessing new dynamics which are further necessitating new business models and approaches to recoup growth and revenue streams.
In this report, inquisitive business players would be provided with sufficient guidelines regarding business transformation, integral to sustain stiffening competition in the pandemic and beyond pandemic era global Commerical Card market.
Commerical Card for Credit-based segment to Sustain the Highest Revenues, Followed by Non-credit-based
The worldwide Commerical Card sector benefits tremendously from credit-based type of transaction. People around the world are growingly adopting to credit-based payment option for all their expense management including travel, food, and other finance options. Procurement and travel management executives are keenly interested in using business-to-business (B2B) and travel & entertainment (T&E) card programs to drive costs out of operations. They are looking for best-in-class card program that suits their requirements. On ther hand, the non credit-based segment is anticipated to grow at the significant CAGR over the forecast period.
APAC to Sweep the Largest Revenue Streams Followed by North America
APAC is the largest contributor to this market, followed by Europe and then North America. In Asia, the presence of nations like China and India, with their massive subscriber bases and constantly shifting regulatory and competitive landscapes, has raised demand for Commerical Card systems. North America, on the other hand, is confronted with the challenges of a deregulated telecom sector.
Further, applications such as the Media Rights is one of the fastest growing segment in application which in turn is favoring rampant expansion of the global Commerical Card market across regions such as North America and Asia Pacific. Consumer preferences for enhanced customer service with real-time billing experience is expected to gain traction in the global Commerical Card market.
Rising internet penetration across rural and urban areas is expected to offer new opportunities in the global Commerical Card market
Due to restrictions and a slowdown in business travel, the coronavirus outbreak will significantly reduce the volume of physical corporate card transactions. However, the impact on plastic cards would be minor, at least until corporates experience limited use of plastic cards as a result of COVID-19. The use of mediums such as the internet, mobile phones, and mobile wallets to make payments is predicted to dramatically increase the amount of contactless card transactions. Companies should enhance virtual Card usage in light of the current situation to provide safety and security from corona infections and the risk of online fraud. As corporations increasingly see signs of steady economic growth, many believe continuing success will be linked to penetrating new countries, particularly in the emerging markets. Card programs are viewed as an important tool for supporting organizations with geographic expansion, especially in regions such as Asia Pacific (specifically China), Latin America, the Middle East and Africa. As the pandemic has accelerated the demand for digital transactions, commercial enterprises are exploring their options to meet payment expectations among employees and vendors – and looking to their financial institution for solutions. Businesses want more efficient ways to make, receive and process payments that reduce or eliminate the use of checks while limiting risk. Virtual cards are the answer.
Despite a minor growth dip owing to Covid-19 implications, the global Commerical Card market is expected to recoup growth and register a healthy CAGR over the forecast period.
In managing their expense management programs, administrators are looking for a globally consistent technology platform that offers integrated card reporting capabilities to ease program expansion and reduce the operational burden on treasury and shared-services staff. These professionals are interested in working with expense management partners who can provide expert regional consultation for the program and deliver a holistic service across the globe. Technology is key to the success of any commercial card program. Integration of data and reporting with internal expense management and/or ERP systems is required to increase the efficiency of an expense management program. The technology advantages of card programs will prove vital for organizations as they look to meet global expansion objectives, particularly in emerging markets which hold tremendous promise for continuing growth.
Card partners and programs deliver important benefits, such as, Making the end-to-end travel experience smoother and more effective. Enabling rapid ramp-up of operations. Easing the on-boarding of suppliers and the acquisition of materials through the utilization of expense management expertise and tools. Enhancing profitability as a result of growth by rapidly setting up administrative structures to provide better expense controls. As procurement and travel management executives seek to better-understand costs, eliminate the use of cash, and realize cost savings, the ability to link card programs to expense management technologies – whether they are function-specific such as travel expense management programs, or enterprise-level ERP systems – is critical.
Increasingly, card programs are becoming significant components of larger corporate initiatives, particularly those related to expense reduction, supplier management and geographic expansion. The most frequently cited objectives of these programs include obtaining cost savings, improving insights into spending as a means of enhancing negotiating power and sourcing, and delivering high levels of support to cardholders and other stakeholders. Businesses are most interested in integrated reporting and data access within a card program's own technology solution, with the goal of providing time and cost savings. In addition, they are looking for integration of card data with their own ERP systems and expense management programs, which offer benefits beyond the direct scope of the card program.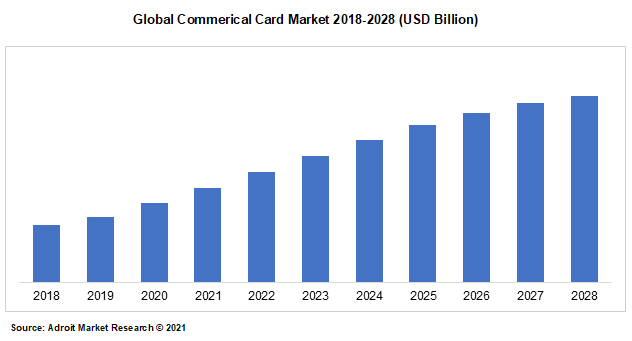 The major players of the global Commerical Card market are American Express, Bank of Canada, Barclays, Billtrust, Boost, CipherTrace, Federal Reserve, HSBC, Mastercard and Visa.
The Commerical Card market is a rapidly progressing industry and is characterized to have industrial frontliners as well as aspiring new players aiming to penetrate into the aggressive competitive landscape across global and local markets. Additionally, various new and aspiring players are improving their product lines and upgrading technological capa
Latest Innovations in the Global Commerical Card Market: a Snapshot
In November 2021, Mastercard and ACI Worldwide partner to simplify access to innovative payment solutions and services for financial institutions.
bilities to improve revenue streams amidst Covid-19 impact.
Commerical Card Market Scope
| | |
| --- | --- |
| Metrics | Details |
| Base Year | 2020 |
| Historic Data | 2018-2019 |
| Forecast Period | 2021-2028 |
| Study Period | 2018-2028 |
| Forecast Unit | Value (USD) |
| Segment Covered | Type, Regions |
| Regions Covered | North America, Europe, Asia Pacific, Middle East and South Africa |
| Key Players Profiled | American Express, Bank of Canada, Barclays, Billtrust, Boost, CipherTrace, Federal Reserve, HSBC, Mastercard and Visa. |
Key Segments of the Global Commerical Card Market
Type Overview, 2018-2028 (USD Billion)
Credit-based
Non Credit-based
Regional Overview, 2018-2028 (USD Billion)
North America
Europe
Germany
France
UK
Rest of Europe
Asia Pacific
China
India
Japan
Rest of Asia Pacific
South America
Mexico
Brazil
Rest of South America
Middle East and South Africa
Frequently Asked Questions (FAQ) :
The forecast period of commerical card market is 2021-2028.
The type of the commerical card market are Credit-based and Non Credit-based.
American Express, Bank of Canada, Barclays, Billtrust, Boost, CipherTrace, Federal Reserve, HSBC, Mastercard and Visa are the top players in commerical card market.
The Asia-Pacific region generates the higher commerical card share for the forecast period.
To get latest version of commerical card market report can be obtained on demand from the website.