The worldwide Color Cosmetics market was valued at USD 61.2 billion in 2019 and is anticipated to grow at a CAGR of 7.7% over the forecast period. Color cosmetics are the products that are used for personal care that assist to improve the way human looks. Color cosmetics are mentioned as cosmetic elements and colorants are used for make-up, skin care, oral care, hair care, fragrance and personal hygiene. Cosmetic or beauty products industry is one segment that usually stays unaffected despite the fluctuations in the economy. Cosmetic sales are maintaining a definite volume through their total products. The sale can be accredited to surging and continuous use of products, specifically by women and men. Companies of personal care are making their products accessible online at economical expenses. The Internet is impacting each business category be it shaving products or deodorant. Customers are enthusiastic to buy the goods that come directly by online retailing.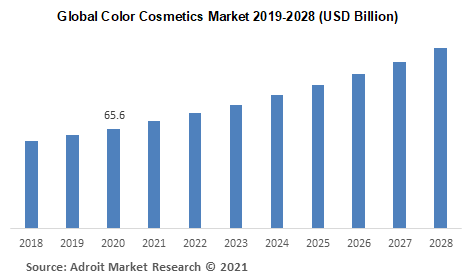 The major element driving the colour cosmetic industry is an increase in consumer awareness of beauty goods. A large number of female employees are enjoying their growing financial freedom, and economic power is the primary engine of the colour cosmetic market's rise. Value for branded colour cosmetic goods such as LVMH, Estee Lauder, L'Oreal, and others is resulting in a rapid growth rate of the market in terms of value.
Increasing customer awareness and expenditure on colour cosmetics is a factor driving the growth of the colour cosmetics industry. People are increasingly concerned with their looks, which is critical for the development of new products. Color cosmetics are widely used to reduce skin problems associated with ageing and to improve life quality. The market for colour cosmetics is growing as women become more conscious of fashion trends. According to a recent research on colour cosmetics industry trends, the female population's desire to seem attractive is increasing. Another element is social media, which encourages fashion bloggers and educates the general public.
The need for cosmetics is rising as the face of fashion changes. Social media, particularly make-up-related blogs, video blogs, and content, is a key driver of the worldwide colour cosmetics business. In 2018, there were over 100 billion beauty videos on YouTube, and beauty vloggers made up more than 95 percent of all vloggers on the platform. These films not only advertise beauty techniques, but also numerous businesses and cosmetics. As a result, the market for colour cosmetics is expanding.
Prominent players operating in the global Color Cosmetics market are L'Oréal S.A, Unilever, Estée Lauder Inc., Avon Products, Inc., Shiseido Company Limited, Coty Inc., Revlon, Inc., CHANTECAILLE BEAUTÉ, KRYOLAN, CIATÉ and many more.
Key Segments of the Global Color Cosmetics Market
Product Overview, 2019-2028 (USD Million)
Nail Products
Lip Products
Eye Products
Facial Products
Hair Products
Others
Distribution Channel Overview, 2019-2028 (USD Million)
Regional Overview, 2019-2028 (USD Million)
North America
Europe
UK
Germany
France
Rest of Europe
Asia Pacific
China
Japan
India
Rest of Asia-Pacific
Middle East and Africa
UAE
South Africa
Rest of Middle East and Africa
South America
Brazil
Rest of South America
Reasons for the study
The purpose of the study is to give an exhaustive outlook of the global Color Cosmetics market. Benchmark yourself against the rest of the market.
Ensure you remain competitive as innovations by existing key players to boost the market.
What does the report include?
The study on the global Color Cosmetics market includes qualitative factors such as drivers, restraints, and opportunities
The study covers the competitive landscape of existing/prospective players in the Color Cosmetics industry and their strategic initiatives for product development.
The study covers a qualitative and quantitative analysis of the market segmented based on component, application, and industry vertical. Moreover, the study provides similar information for the key geographies.
Actual market sizes and forecasts have been provided for all the above-mentioned segments.
Who should buy this report?
This study is suitable for industry participants and stakeholders in the global Color Cosmetics market. The report will benefit Every stakeholder involved in the Color Cosmetics market.
Managers within the Color Cosmetics industry looking to publish recent and forecasted statistics about the global Color Cosmetics market.
Government organizations, regulatory authorities, policymakers, and organizations looking for investments in trends of the global Color Cosmetics market.
Analysts, researchers, educators, strategy managers, and government institutions looking for insights into the market to determine future strategies.
High expenditure in advertising and marketing activities, such as promotions on social networking sites and celebrity endorsements, has improved brand recognition and visibility among customers. The growth of digital marketing has been a significant driver of this sector. Consumers are mostly focusing on brands that perform responsibly and struggling to decrease the carbon footprint by dealing with the waste in an area where color cosmetics brands can transform. Substitute materials such as rice bran, coconut husk and bamboo are developing the trend in packaging. And customers preference for eco-friendly products is adding the advantage of standing out on shelves where glass and plastic is the norm.
In the year 2018, J&J Inc.'s customer division showed stable growth. The splitting up of sales have mostly been restricting from skin care products to robust well-developed brands like Neutrogena or Aveeno. The sales of company in baby products is confronted from the past year with the requirement to recombine to progressively demanding customer segments like futuristic parents, accepting to the increasing competition of private labels, and the organic or natural brands.
The primary digital marketing platforms that influence customers to test new cosmetic products include Instagram, YouTube, Facebook, Twitter, Pinterest, and Beauty Blogs. Since a result, the digital platform is an important marketing tool for the manufacturer, as it allows them to communicate directly with the customers. The demand for organic cosmetic products has increased substantially in recent years. Growing concern about animal welfare and environmental preservation is driving up demand for organic products.
Product Segment
The global Color Cosmetics market has been segmented based on product and distribution channel. In 2020, facial products accounted for more than 26.0 percent of the market. Growing demand from the working-class female population is a significant driver of sector growth. Popular items in this area include facial foundation, concealer, powder, and bronzer. While face powder and foundation are the most popular products, the demand for concealer is quickly expanding due to its increasing use to counteract the signs of ageing by hiding dark circles, age spots, and big pores.
Lip products are anticipated to grow at the highest rate, with a CAGR of over 8.0% . Consumer expenditure on luxury personal care items has increased as buying power in emerging nations such as China and India has increased. Furthermore, an increasing female working-class population is projected to increase demand in the near future.
Europe has emerged as the most important market, accounting for 29.5 percent of worldwide sales in 2020. The cosmetics business contributes considerably to the European economy and employs over 2 billion people throughout the continent. Because of growing worries about the negative consequences of conventional cosmetics, the region is seeing an increase in interest in organic colour cosmetics. Consumers are increasingly looking for non-controversial synthetic ingredients and multifunctional cosmetics. By 2028, Asia Pacific is anticipated to have the fastest CAGR. The region's major markets include China, Japan, South Korea, India, and Indonesia. In the foreseeable future, the growing middle-class population in nations like as India and China is projected to boost demand. The region's growing female workforce is also fuelling development, as BB (blemish balms) and CC (colour correcting) creams have acquired considerable appeal in nations such as China and Japan.