The global coconut market was valued at USD 64.95 Billion in 2020 and is expected to grow at a CAGR of 5.8% over the forecast period. Increasing awareness concerning the advantages connected with the coconut products combined with increasing demand from significant developed countries such as U.S., Germany, UK, Italy, and Canada are expected to increase coconut market concentration over the coming years. Nonetheless, ongoing research and development in the field of medical sciences for the role of linolenic acid for the anti-viral drug will bring the huge opportunities during the forecasted year.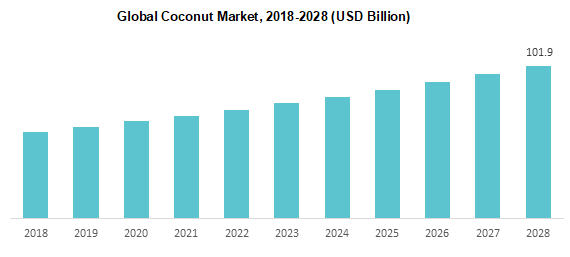 The market has been constructively impacted by the cumulative variety of coconut derivatives combined with their health advantages. During the forecast period, increased use of major coconut derivatives such as oil, milk, and water is expected to further fuel the overall market. Additionally, cosmetics as well as food and beverage companies are increasing their investment in research and development to take complete advantage of the fruit in order to improve their product offering.
Increasing demand for tender coconut due to its healthy content of minerals, vitamins and protein is further propel the market demand. The damaging impact of synthetic beverages has led the health-conscious customers to opt for natural beverages like tender coconut water. Within India, the demand has risen over the years for tender coconut water. Rancidification of coconut oil is also one of the major restraining factor affect the growth of the market. In 2020, nearly 20% of the coconut crop is harvested in tender form, compared to only 5% in the past few years.
Increasing capitalization of coconut in developing nations by virtue of its low cost and no side effects is expected to increase market expansion over the coming years. It is discovered to be an affordable source of medicine or alternative care for multiple illnesses, such as diabetes, coronary vascular diseases. While coconut water can be an ancient commodity that is generally consumed fresh, pasteurized bottled coconut water becomes a new entrant in the beverage industry.
Major current market players include Vita Coco, PepsiCo, Coconut Palm Group Co. Ltd. (Yeshu), THE COCA-COLA COMPANY (ZICO Beverages LLC), KKP Industries, Dutch Plantin Coir India Pvt. Ltd., THEPPADUNGPORN COCONUT CO., LTD., COCO & CO., Renuka Foods, Dang Foods Company, DREAM, Radha Beauty, New Age Beverages Corporation (Coco-libre), PT. Global Coconut, So Delicious Dairy Free products, The Cornish Coconut Company (Coconuts Organic), Premium Nature, CREATIVE SNACKS CO., Eco Biscuits, Peter Paul Philippines Corporation, Franklin Baker, VV Industries, SUN BIONATURALS (INDIA) PRIVATE LTD. and Others
Segment Overview of Global Coconut Market
Type Overview, 2019-2028 (USD Billion)(Kilo Tons)
Coconut water
Coconut Oil
Coconut Milk
Coconut Snacks
Coconut Desiccated
Coconut Fibre
Others
Application Overview, 2019-2028 (USD Billion)(Kilo Tons)
Food & Beverage
Cosmetics
Healthcare Types
Textile
Others
Regional Overview, 2019-2028 (USD Billion)(Kilo Tons)
North America
Europe

UK
Germany
France
Rest of Europe

Asia Pacific

China
Japan
India
Rest of Asia-Pacific

Middle East and Africa

UAE
South Africa
Rest of Middle East and Africa
South America

Brazil
Rest of South America
Reasons for the study
The purpose of the study is to give an exhaustive outlook of the global coconut industry
The overall segmentation of coconut market, especially key segments are thoroughly studied.
Presence of major players and their wide product portfolio across developed countries is anticipated to further boost the growth of coconut market
What does the report include?
The study on the global coconut market includes analysis of qualitative market indicators such as drivers, restraints, challenges, and opportunities
Additionally, the market competition has been evaluated using the Porter's five forces analysis
The study covers qualitative and quantitative analysis of the market segmented on the basis of type, application and country. Moreover, the study provides similar information for the key geographies.
Actual market sizes and forecasts have been provided for all the considered segments
The study includes the profiles of key players in the market with a significant global and/or regional presence
Who should buy this report?
The report on the global coconut market is suitable for all the players across the value chain including raw material suppliers, producer, distributors, suppliers, and retailers
Venture capitalists and investors looking for more information on the future outlook of the global coconut market
Consultants, analysts, researchers, and academicians looking for insights shaping the global coconut market
The global coconut market is highly fragmented in nature as large number of small coconut processing companies are operating in this industry. Manufacturers are adopting mergers & acquisitions and new product development strategies to increase their geographical reach. Additionally, well-established food & beverage companies are focusing on untapped areas to increase their market concentration. For instance, in March, 2017, Coca-Cola announced that it will launch packaged coconut water (Zico) in India.
Some key initiatives adopted by leading players to form strategies:
In 2015, Vita Coco Company started the vita coco project, in this the company planned to raise 1 million people in coconut farming, to create opportunities for farmers, and start its own farming. Hence, through this initiative the company looks forward to expand its farming bases around the globe.
In May 2019, PepsiCo entered into a definitive agreement with Bare Foods Co., a U.S. based manufacturer of vegetable snacks and baked fruit snacks. This partnership is expected to strengthen PepsiCo's snacks division in global market.
On 9 March 2018, Zico added three new product versions, namely, Zico Coco-Lixirs, Zico Chilled Organic and Zico Jalapeno-Mango. Hence, through this launch the company focuses on expanding its product portfolio.
KKP Industries focusing on coming up with derivatives of coconut , firstly looking forward to expand the local regional market and also to expand internationally, by adding up new products in the portfolio
In May 2018, Theppadungporn Coconut Co Ltd., under the Chaokoh brand, is expanding a push with sister brand Mae Ploy into European market, through the help of offline and online marketing channels. Hence, the company looks forward to attain a strong position in new markets, and expand globally.
In 2020, coconut oil accounted for more than 18% of overall market share and is expected to grow by the virtue of increasing demand from the implementation of personal care and beauty along with food and beverage industries. Additionally, increased consumption of coconut oil for skin and hair care in Asia Pacific countries will further propel the demand. Similarly, coconut milk is becoming increasingly popular as an alternative to dairy milk, particularly among the vegan population. Due to the health advantages connected with them, other derivatives such as coconut water, sugar, and chips and cookies are gaining popularity. Such varied uses are expected in the coming years to further fuel demand.
Over the past few years, rapid urbanization and modernization has resulted in increased snacks consumption. Increasing millennials population followed by rising per capita spending has encouraged snacks manufacturers to spend on new product development to cater the growing end user requirement. Most of the snacks and meals available in the market are however made with elevated quantities of fats, sugar and salts and lowest quantities of nutritional fibers. Due to that, the consumer demand for healthy snacks is increasing. Therefore, good food quality and excellent nutritional properties of coconut snacks is expected to have promising future opportunities.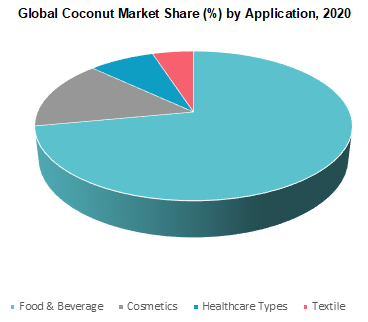 In 2020, Americas accounted for more than 11% of overall market share. Increasing coconut production in Brazil and Mexico, followed by rising import in U.S. is expected to demonstrate lucrative opportunity for coconut industry in Americas over the coming years. Growing consumption as low sugar energy drink followed by increasing adoption in textile industry has increased coconut's popularity among Americans. Furthermore, rising prevalence of diabetes followed by increasing health concern regarding obesity has increased consumption of coconut oil in the U.S. and the trend is expected to continue over the coming years.
The intake of coconut in Europe is quite low and has not changed greatly in the recent years. The variety of exotic fruits is complementary and often not efficiently supplied by distributors. This is not only because of high consumption of palm, but also due to the remote sourcing. However, the much appreciated flavor of coconut flesh, and its highly exotic picture, the demand for coconut is expected to grow in Europe.
Growing food & beverage, cosmetic, healthcare, and textile industry to strengthen coconut products market concentration in Middle East & Africa over the coming years. Increasing garment manufacturing in Kenya, Ethiopia, UAE, Saudi Arabia, and South Africa is expected to encourage coconut fiber manufacturers to increase their production capacity to meet buyer's requirement. For instance, over the past few years, many European companies such as Tesco, H&M, and Primark are sourcing their garments from East African countries.