The market size for the Global Cloud Computing Market is expected to reach USD 1187 billion by 2028. Cloud computing is the on-demand distribution and pay-as-you-go pricing of IT services over the Internet. Instead of purchasing, owning, and maintaining physical data centers and servers, a cloud provider such as Amazon Web Services (AWS) can access technology services, such as computing power, storage, and databases, as required.
cloud computing service providers will benefit from large economies of scale by providing a wide variety of consumers with the same services. For a broad range of use cases, companies of all types, sizes, and sectors are using the cloud, such as data backup, disaster recovery, email, virtual desktops, software creation, and research, big data analytics, and web apps facing consumers. Healthcare providers, for example, are using the cloud to create more customized therapies for patients. The cloud is being used by financial services firms to facilitate real-time fraud detection and prevention. And video game developers use the cloud to distribute games digitally to trillions of players around the world.
Segment Overview of Global Cloud Computing Market
Deployment Overview, 2018-2028 (USD Billion)
Product Mode Overview, 2018-2028 (USD Billion)
Application Overview, 2018-2028 (USD Billion)
BFSI
IT & Telecom
Retail and e-commerce
Healthcare
Manufacturing
Government and Utilities
Others
Enterprise Size Overview, 2018-2028 (USD Billion)
Regional Overview, 2018-2028 (USD Billion)
North America
Europe

UK
France
Germany
Rest of Europe

Asia Pacific

India
China
Japan
Rest of Asia-Pacific

Middle East and Africa

Saudi Arabia
South Africa
Rest of Middle East and Africa

South America
Brazil
Rest of South America
Reasons for the study
The purpose of the study is to give an exhaustive outlook of the global workplace market.
Ensure you remain competitive as innovations by existing key players to boost the market.
What does the report include?
The study on the Global Cloud Computing Market market includes qualitative factors such as drivers, restraints, and opportunities
The study covers the competitive landscape of existing/prospective players in the Global Cloud Computing Market market and their strategic initiatives for the product development
The study covers a qualitative and quantitative analysis of the market segmented based on Softwares, Enterprise size, and vertical. Moreover, the study provides similar information for the key geographies.
Actual market sizes and forecasts have been provided for all the above-mentioned segments.
Who should buy this report?
This study is suitable for industry participants and stakeholders in the Global Cloud Computing Market market. The report will benefit:
Every stakeholder is involved in the Global Cloud Computing Market market.
Managers within the Tech companies looking to publish recent and forecasted statistics about the Global Cloud Computing Market market.
Government Enterprises, regulatory authorities, policymakers, and Enterprises looking for investments in trends of the Global Cloud Computing Market market.
Analysts, researchers, educators, strategy managers, and academic institutions looking for insights into the market to determine future strategies.
While technology spending in APAC has increased, the setback due to the recent COVID-19 pandemic is imminent. The cloud technology adoption is expected to increase in sectors where the WFH initiative is helping to sustain enterprise business functions. Enterprises having their existing infrastructure are moving toward the adoption of cloud computing services and willing to adopt the hybrid approach so that they could reap the benefits of on-premises and cloud services.
Moreover, SMEs are largely adopting cloud computing services due to their major benefits, such as no initial infrastructure setup costs and the on-demand availability of computing services. These factors are contributing to the growth of hybrid cloud services in enterprises. Moreover, the hybrid cloud offers the benefit of enhanced workload management, increased security and compliance, and efficient integration within DevOps teams.
Deployment Segment
Based on deployment, the cloud computing market has been segmented into the public cloud and private cloud. Each deployment model is defined according to where the infrastructure for the environment is located.
Product Segment
In terms of product, the global cloud computing market is segmented as SaaS, IaaS, and PaaS. SaaS, PaaS, and IaaS are simply three ways to describe how a user can use the cloud for their business The software as a Service (SaaS) segment dominated the cloud computing market in 2019 owing to its flexible costs, easy maintenance, and deployment.
Application Segment
The Cloud Computing market based on application has been segmented into IT & telecom, BFSI, retail and eCommerce, healthcare, manufacturing, government & utilities, and others. Cloud computing is an internet-based computing technology, which is witnessing significant adoption across numerous industries owing to its provision of virtual servers that hosts platform, software, devices infrastructure, and other resources to customers.
Enterprise Size Segment
Based on enterprise size, the market is bifurcated into large enterprises and SMEs. Cloud computing and other technologies in its peripheral such as IoT, AI, blockchain is advancing in leaps and bounds, in turn, rapidly transforming every aspect of business and life. The cloud platforms are leading to a paradigm shift from conventional computing technologies, which is positively influencing businesses of all sizes.
Based on the region the global cloud computing market has been bifurcated into North America, Europe, Asia-Pacific, Middle East & Africa, and South America. These regions are further bifurcated into, North America: U.S. and Canada, Europe: Germany, France, UK, and Rest of Europe, Asia-Pacific: China, India, Japan, and Rest of Asia Pacific, and South America: Brazil, and Rest of South America. North America is expected to have the highest market size in the forecast period.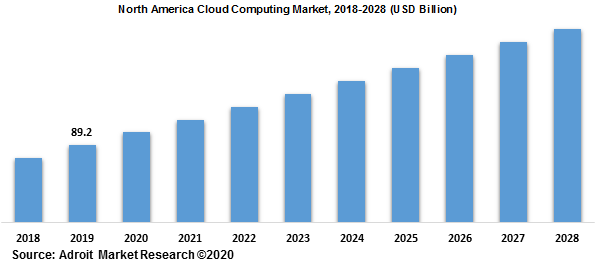 The major players of Cloud Computing are Adobe, IBM, Oracle, Red Hat, Software AG, Microsoft, and The major players of Cloud Computing are Microsoft, Amazon Web Services, IBM Corporations, Oracle, Salesforce, Cisco, and various other players in the market. Most of the players are spread across various regions focusing on inorganic and organic strategies.