In 2018, the global clinical trials services market was valued at USD 41.88 billion and is expected to grow at a CAGR of 10.1% over the forecast period from 2019 to 2027. Globalization of clinical trials across all geographic areas coupled with continuous need for innovative treatment options against chronic diseases is anticipated to drive the global market in coming years. In terms of stages of clinical trials, Phase III dominated the global market by contributing 34.1% in 2018 and is expected to emerge as the most lucrative segment in terms of CAGR by 2027. As phase III is associated with high costs, large number of subjects, high level of complexities are observed for getting approvals in Phase III candidates.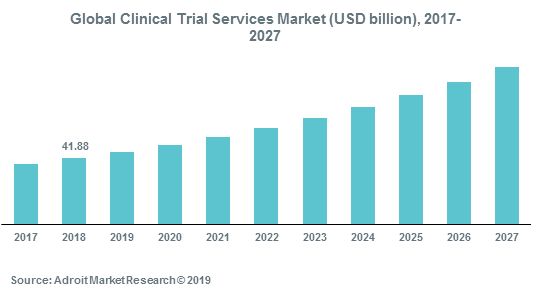 On the basis of products, pharmaceuticals segment dominated the global market and is likely to grow at a CAGR of 10.3% over the forecast period. On the other hand, biologics segment is anticipated to emerge as the fastest growing segment by 2027. As R&D for small molecules have reached stagnancy, biologics are anticipated to show lucrative growth in the coming years. Biologics are the fastest growing class of therapeutics when compared to counterparts such as small molecules. Targeted therapies offered by biologics is the major factor responsible for inclination of researchers towards biologics.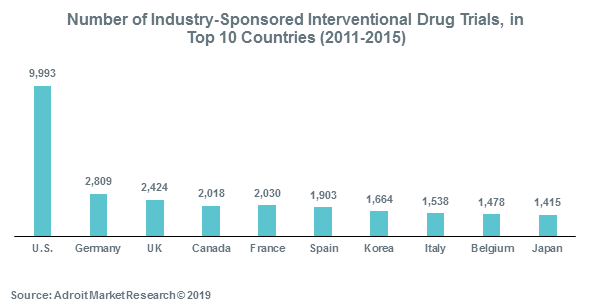 The CRO segment was largest in 2018 and is expected to contribute 75.9% in 2027. Evolution of Contract Research Organizations (CRO) in regions such as Asia Pacific and Middle East has resulted in a shift of research activities from North America and Europe towards Asian countries such as India, Philippines and many more. Large number of competencies of CRO's compared to pharma and biotech companies is anticipated to drive the CRO segment growth in coming years.
In terms of regional distribution, Asia Pacific is expected to emerge as the most potential market for clinical research services in coming years on account of rapid growth of CRO industry in countries such as China, India and many more. With reduction in trial application approvals from approximately 6 months in 2016 to 4 months in 2017, large number of pipelines have moved forward towards market approvals. This is likely to benefit the regional growth of clinical trials in future.
Clinical Trial Services Market Scope
Key Segments of the Global Clinical Trial Services Market
| | |
| --- | --- |
| Metrics | Details |
| Base Year | 2019 |
| Historic Data | 2017-2018 |
| Forecast Period | 2020-2025 |
| Study Period | 2015-2025 |
| Forecast Unit | Value (USD) |
| Revenue forecast in 2025 | USD 41.88 billion |
| Growth Rate | CAGR of 10.1% during 2021-2028 |
| Segment Covered | Phase, Therapeutics, End user, Component, Regions |
| Regions Covered | North America, Europe, Asia Pacific, Middle East & Africa, South America |
| Key Players Profiled | PAREXEL International Corporation, IQVIA, Charles River Laboratory, ICON Plc, Wuxi AppTec Inc., PRA Health Sciences, Almac Group, Ancillare, LP, Klifo, Catalent, Inc., Thermo Fisher Scientific (Fisher Clinical Services), Covance Inc. (LabCorp) and others. |
Phase Overview, 2017-2027 (USD Million)

Phase I
Phase II
Phase III
Phase IV

Product Overview, 2017-2027 (USD Million)

Pharmaceuticals
Biologics
Medical Devices
Others

Therapeutics Overview, 2017-2027 (USD Million)

Oncology
Cardiovascular Disease
Dermatology
Neurological Disorders
Metabolic Disorders
Others

End user Overview, 2017-2027 (USD Million)

CROs
Pharmaceutical & Biotech Companies

Regional Overview, 2017-2027 (USD Million)

North America
Europe

Germany
UK
France
Italy
Spain
Rest of Europe

Asia Pacific

China
Japan
India
South Korea
Australia
Philippines
Rest of Asia Pacific

Central & South America

Brazil
Mexico
Rest of South America

Middle East & Africa

GCC
South Africa
Rest of Middle East & Africa
Reasons for the study
Rising R&D activities of pharma and biotech companies

Rising demand of clinical trials worldwide

Growing disease burden

Increasing clinical trials outsourcing to Asian countries
What does the report include?
The study on the global clinical trial services market includes qualitative factors such as drivers, challenges and opportunities

The study covers qualitative and quantitative analysis of the market segmented on the basis of phase, product, therapeutics, end user and region. Moreover, the study provides similar information for the key geographies.

Actual market sizes and forecasts have been provided for all the above-mentioned segments

The study includes the profiles of key players in the market with a significant global and/or regional presence
Who should buy this report?
This study is suitable for industry participants and stakeholders in the clinical trial services market. The report will benefit:
Executives of the clinical trial services manufacturing companies.

Managers within financial institutions looking to publish recent and forecasted statistics pertaining to the clinical trial services market.

Venture capitalist looking into investing capital.

Government organizations, regulatory authorities, policymakers and financial organizations looking for innovative clinical trial services solutions.

Analysts, researchers, educators, strategy managers and academic institutions looking for insights into the market to determine future strategies.
Biotech, pharmaceutical & medical device companies continue to develop at a fast pace owing to continuous expenditure on R&D, rising demand for biopharmaceuticals and increased healthcare needs of the geriatric population. In order to fulfill this, the demand for effective clinical trials has increased for ensuring the effectiveness and safety of products. Worldwide, there are more than 266 thousand open clinical trials, which are up from 100 thousand in 2010, an increase of over 150%. In the United States alone, there are more than 105 thousand open clinical trials, which are mostly involved in investigating biologics or drugs, surgical procedure, device or behavioral intervention.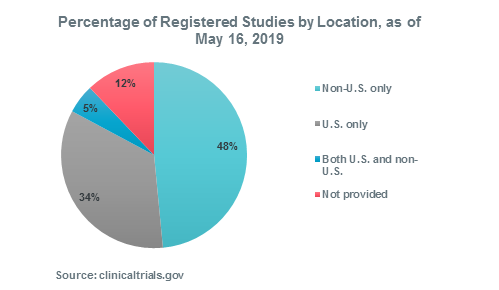 The positive growth in the clinical trials services market has also led to a growing number of M&A (merger and acquisitions) activity, growing use of CRO's (contract research organizations) & functional service providers along with even more funding and investment. In line with the trend InVentiv Health merged with INC Research, LabCorp signed agreement with Chiltern and Covance, Pamplona acquired Parexel, Quintiles merged with IMS Health Holdings, Inc. which is now IQVIA and Allergan was bought by Teva Pharmaceutical Industries.
M&A are often exposed to numerous obstacles such as changes in geographical expansion, client base, complex studies being abruptly adjusted in size. However they also offer sudden benefits like exclusion of parallel initiatives, prolonged databases, new technologies and relationships, client portfolios. They also have significant impact on the shareholders and stock market. When Chiltern joined Covance and LabCorp, it was benefitted with additional resources such as Covance's market place along with company's proprietary model for connecting biotech companies with the investment partners. Whereas, Chiltern offered its biotech client segment, with special focus on therapeutic oncology.
The global clinical trial services market has been segmented based on phase, product, therapeutics and end user.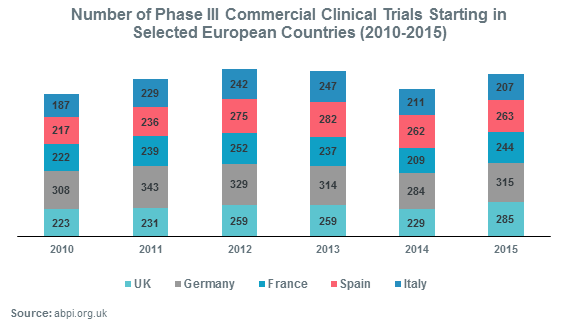 Phase III was the largest revenue generating segment in 2018, and is expected to grow at the highest pace over the forecast period owing to factors such as clinical trial opportunities in growing economies such as Asia Pacific and Central & South America due to low labor cost and presence of large human samples pool for clinical trials. Phase III clinical trials are used to demonstrate safety and efficacy in a large population, usually comprising 1,000 to 5,000 patients or more across numerous clinical trials facility around the world. Phase III is essential in determining the safety & effectiveness of drugs, and mentions the labeling instruction to insure the proper usage of drug (e.g. specific dosing instructions, information on potential interactions with other medicines etc.). Phase III trials are the costliest and longest trials, encompassing hundreds of clinical trials across the United States and rest of the world.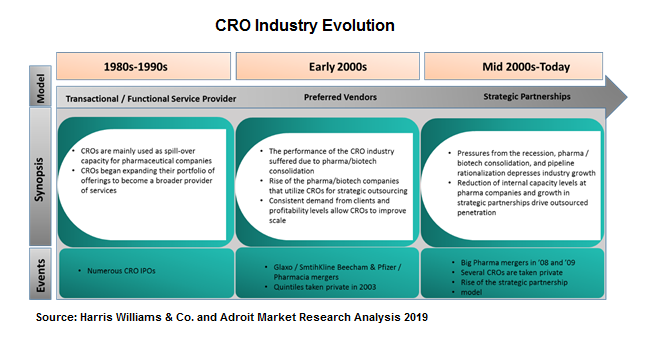 In the end user CRO segment is expected to USD 75,537.4 million by 2027. CROs are an integral part of the drug development process, providing a wide range of services to biotechnology, pharmaceutical, medical device companies, governments, academic institutions, and other research bodies. These services comprise every phase of the drug development process such as compound discovery & selection, preclinical research, clinical testing, as well as post-approval functions such as commercialization, monitoring & consulting and safety analysis among others. The CRO industry is extremely fragmented consisting of small and mid-sized players, and few large and full-service global CROs. There are limited barriers to entry for small and mid-sized players whereas large CROs with international capabilities require building the necessary infrastructure along with management of multiple & complex clinical trials across numerous regions. Over the past few years, consolidation, mergers, and acquisitions across CRO industry have led to the proliferation of larger CROs with global expertise, capital, and infrastructure to manage the growing demand for drug development from biotechnology, pharmaceutical & medical device companies.
The revenue source for CROs is from allocated R&D budgets of biotechnology, pharmaceutical, medical device companies, governments, other medical research companies. Consequently, future revenue growth of CROs depends upon factors such as growth in R&D spending and increased outsourcing. The pharmaceutical and biotech industries are recognizing the importance of scale & therapeutic expertise to accelerate the introduction of innovative drugs in the market in a cost-effective manner, which would ultimately help in the overall growth of CROs in the global clinical trial services market.
North America dominated the global clinical trial services market in 2018 with revenue USD 19,594 million. While the quality of clinical trials has always been high in North America, its trend varies across region. Rising government and private sector expenditure for R&D activities is a prime driver for the growth of clinical trial services in this region. Additionally, M&A are also trending in North America, where clinical trial service providers partner with their pharma clients. This model of engagement encompasses more strategic collaboration, with the service providers usually offering solutions and managing outcomes. However, to reduce cost barriers and to lessen the time for commercializing the drug to the market, North American countries are outsourcing their clinical trials to developing market. Asian countries are emerging as the most promising destinations with this regard.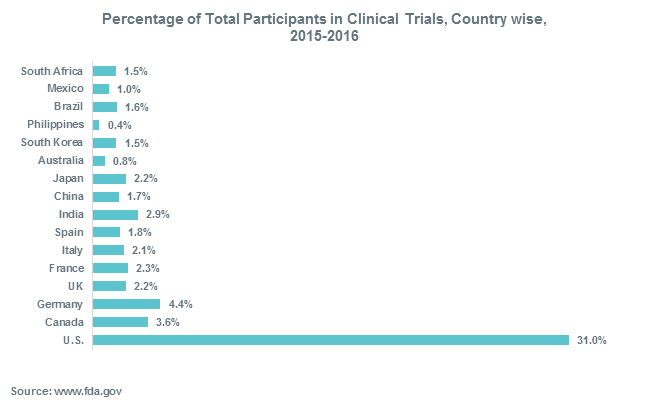 APAC is massively emerging as the go-to destination for clinical trial services and is expected to show most promising growth over the forecast period. The Australian government at both state and federal levels demonstrate a strong commitment to support clinical research across Australia. Annually, over 1000 new clinical trials are initiated in Australia by pharmaceutical, biotechnology and medical device companies. In 2015, around 1,360 clinical trials were initiated, representing a projected USD 1.1 billion of direct expenditure. Of this, approximately USD 830 million came from commercial bodies, with a major contribution through international inbound investment. Approximately, 6,900 highly skilled staff in commercial and clinical facilities across Australia are engaged in conducting clinical trials. Global firms benefit from efficient protocols and clinical trial processes, which are directly transferable across regions; certifying outcomes that are trustworthy, highly valued and can be made easily available in other jurisdictions.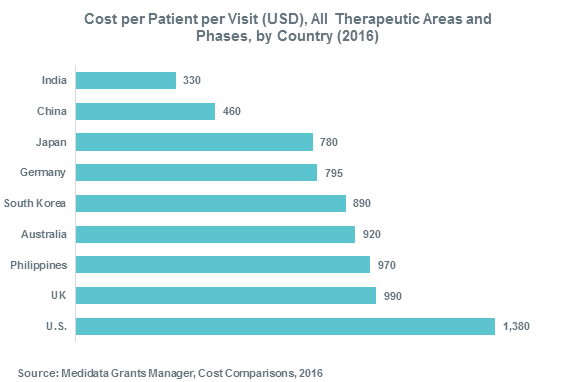 South Korea is swiftly becoming acknowledged as a global leader in clinical research, standing among the top 10 locations internationally in terms of the number of studies performed every year. International sponsors cite several advantages within the country that constantly ensure speed and quality for the conduct of their clinical trials. South Korea has the world's most proficient clinical trial approvals (30 working days). Another noteworthy advantage is the widespread support provided by the government for the pharmaceutical R&D, comprising the formation of the Korea National Enterprise for Clinical Trials and backing of Research-driven Hospitals, Regional Clinical Trial Centers and Global Clinical Trial Centers of Excellence. Additionally, the data generated by the Korean sites are recognized for Japanese registration, which permits for a malleable regulatory strategy for Asian development, simplifying regional research networks and eventually decreasing the drug lag in this region.