The global clinical alarm management market was valued at USD 688.6 million in 2020 and is projected to grow at a CAGR of 30.6% during the forecast period. Factors driving the growth of the clinical alarm management market include increasing alarm fatigue, up surging elderly population, and growing importance and practice of big data and mHealth tools.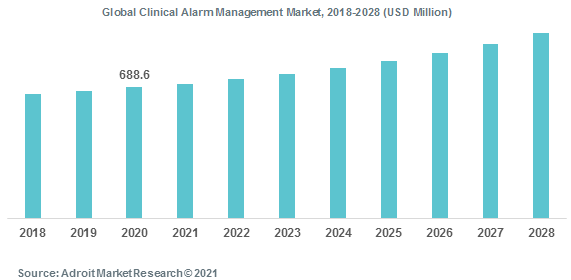 Alarm management is a perennial and growing challenge in healthcare. Whether the hospital is responding to an alarm-related crisis or undertaking a planned alarm management initiative, a diverse range of expertise is critical. Leading practitioners bring together a multidisciplinary team of subject matter experts and professionals to represent their colleagues and key stakeholders, "own" and champion the initiative, and build consensus for improved practices.
Regionally, North America accounted for the largest market share of the global clinical alarm management market attributable to efficient maintenance of data. Leading players of the global clinical alarm management market include Koninklijke Philips, Ascom Holdings, Vocera Communications, Spok, Inc., Connexall, Bernoulli Enterprise, Mobile Heartbeat, Capsule Technologie, GE Healthcare Masimo Corporation among others.
Key segments of the global clinical alarm management market
Product Overview, 2018-2028 (USD Million)
Nurse call systems
Physiological monitors
EMR integration systems
Bed alarms
Ventilators
Others
End-use Overview, 2018-2028 (USD Million)
Hospitals
Long-term care centers
Ambulatory care centers & home care settings
Regional Overview, 2018-2028 (USD Million)
North America
Europe

Germany
United Kingdom
France

Asia Pacific
Rest of the world
Reasons for the study
Increasing alarm fatigue
High prevalence of chronic diseases
Need for cost-containment in healthcare delivery
What does the report include?
The study on the global clinical alarm management market includes qualitative factors such as drivers, restraints and opportunities
The study covers qualitative and quantitative analysis of the market segmented on the basis of product and end-use. Moreover, the study provides similar information for the key geographies.
Actual market sizes and forecasts have been provided for all the above-mentioned segments
The study includes the profiles of key players in the market with a significant global and/or regional presence
Who should buy this report?
The report on the global clinical alarm management market is suitable for all the players across the value chain including product manufacturing companies, suppliers/distributors, R&D labs, CROs, healthcare organizations, medical reimbursement and insurance providers
Venture capitalists and investors looking for more information on the future outlook of the global clinical alarm management market
Consultants, analysts, researchers, and academicians looking for insights shaping the global clinical alarm management market
Alarm fatigue is an emerging problem leading to serious patient safety issues that has shown to impact patient mortality. In addition, it arises when clinicians become desensitized to the huge number of alarms going off around them. Many health care professionals are affected by this phenomenon and are therefore pertinent to find a resolution to this problem. There is lack of distinction between a genuine alarm and a false alarm. This makes it difficult for critical care nurses to differentiate between a false alarm along with a true emergency. The Joint Commission emphasizes alarm indicators per day can arrive at numerous hundred relying on the unit throughout the hospital. So, it force create interest for further researches into this field, which including their perception and practice regarding alarm fatigue.
On the basis of product, the nurse call systems dominated the market in 2020. More often, alarm management occurs at the level of individual nurses. In a survey conducted by Philips Healthcare it was found that, a telemetry charge nurse was receiving and responding to an average of 3.7 alarms per minute. Even permitting for nominal time to retort to each alarm, it is clear that this state was challenging. A majority of that nurse's time was consumed answering to alarms, and unavoidably some were overlooked. Nurse-to-nurse handoffs are important to discuss the frequency and types of alarm conditions, parameters monitored, and alarm system settings. Educating nurses to customize alarm parameters may greatly reduce alarm load.
As alarm management has become a topic of increasing priority in the US healthcare system, many solutions have been proposed, and results of specific interventions studied and reported. Positive results have been reported from a wide range of interventions – from very simple (changing EKG electrodes daily) to technologically sophisticated, proprietary approaches (multi-parameter alarms and 'alarm of alarms'). Many approaches entail solutions that cannot be easily duplicated, or that are specific to the care setting in which they were studied. Today, relatively few hospitals have developed comprehensive programs to manage their alarm environment. More often, alarm management is occurring at the level of individual departments, or even individual nurses. Ad hoc solutions to excessive alarms, including unsanctioned adjustments to alarm settings, can be as much part of the problem as the solution.