The global carbon fiber demand in 2018 was valued at more than 85 kilo tons. Growing adoption in wind energy industry and automotive industry is expected to open new opportunities for carbon fiber industry over the coming years. Additionally, development of efficient manufacturing processes, increasing penetration in 3D printing, and emergence of applications in medical composites and geo-polymer is expected to encourage carbon fiber manufacturers over the projected period.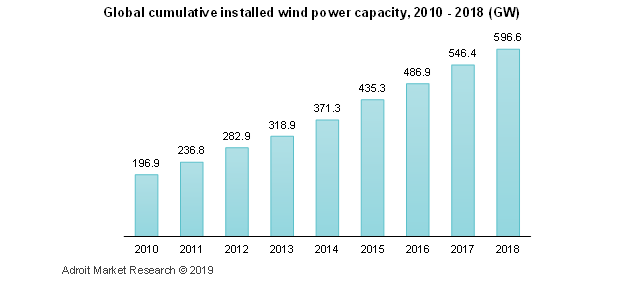 Wind energy sector is facing intense competition from other forms of electric power generation. The global installed wind capacity witnessed more than 20% average growth from 2001 to 2018. Rising need for energy and limited availability of natural resources will positively impact the demand for renewable energy sources. According to the World Wind Energy Association, the global wind power capacity was reached 597 GW in 2018.
Carbon fiber plays a crucial role in designing of wind turbines where they are used in manufacturing of turbine blades and helps to achieve increased length, thinner blade profile owing to its low density and high stiffness. Due to its high operational efficiency, carbon fiber composites are being widely adopted by wind turbine manufacturers. Increasing demand has forced manufacturers to expand their offerings in order to cater growing industry requirements. For instance, in September 2018, due to high demand for offshore wind turbines, Toray Industries announced that they would increase their carbon fiber production capacity by 20% in Mexico and Hungary.
Key segments of the global carbon fiber market
Product Overview, 2015 - 2025 (Tons) (USD Million)
Regular tow carbon fiber
Large tow carbon fiber
Application Overview, 2015 - 2025 (Tons) (USD Million)
Automotive
Aerospace & defence
Wind turbines
Sports equipment
Industrial materials
others
Regional Overview, 2015 - 2025 (Tons) (USD Million)
North America

Europe

Germany

UK

France

Rest of Europe

Asia Pacific

China

Japan

India

Southeast Asia

Rest of Asia Pacific

Rest of the World
Reasons for the study
The study offers a comprehensive outlook of the global carbon fiber industry
Carbon fiber market in automotive and wind turbine industry are expected to get traction over the coming years
New product development followed by facility expansion is expected to increase market concentration
What does the report include?
The study on the global carbon fiber market includes qualitative aspects such as market drivers, restraints, trends, opportunities, value chain, and strategic framework
This report also covers quantitative and qualitative assessment of the carbon fiber market segmented by products, applications and regions.
Market size estimation and forecast have been provided for all the above-mentioned segments
The carbon fiber market report contains profiles of leading manufacturers with a significant global and regional presence
Who should buy this report?
Executives and R&D professionals of carbon fiber producers and suppliers
Automotive, aerospace, and sports equipment manufacturers
Regulatory authorities and government organizations looking for innovative product solutions and development
Competitive Landscape - 2018
The major share in the global carbon fiber market is held by Toray, Teijin and Mitsubishi Rayon. Product development and innovation is anticipated to be the major strategy adopted by key players in the market, while increasing demand for fuel efficient vehicles is driving the growth of this market. The market is highly fragmented due to the presence of a large number of local as well as international players. Thus, major players in this market account for around 50% share, and various companies are focusing on key strategies such as mergers, partnerships and acquisitions to strengthen their global reach and goodwill in the ever competitive market.
Toray Industries, Inc. announced its plan to increase the production capacity of large tow carbon fiber at its U.S. subsidiary, Zoltek Companies, Inc. in April 2018. With this plant expansion, the company plans to increase production capacity from 10,000 tons to 15,000 tons per year at Zoltek's Hungarian facility. The total investment exceeds USD 130 million and will start production in early 2020.
Toray Industries, Inc. developed a new carbon fiber reinforced plastics manufacturing technology in March 2018 that allows for both improved dimensional precision and energy savings. Toray aims to develop this new technology and apply it to primarily aircraft applications that require higher productivity and more energy savings. In addition, this innovation is expected to support both automotive and general industrial applications and will contribute to the development of carbon fiber reinforced plastics materials.
Mitsubishi Chemical Corporation (MCC) invested in CPC in October 2017. CPC is an Italian company that manufactures and markets automotive parts that include carbon fibers and composite materials. Mitsubishi Chemical Carbon Fiber and Composites GmbH, a wholly-owned MCC subsidiary, acquired from its founder a 44% stake in CPC. This was a strategic move in the U.S. and European markets to boost the carbon fiber industry.
Carbon fiber was earlier used mainly for aircraft & defence equipment applications as a part of its structural design. However, owing to its beneficial properties, they were consequently adopted by other industries such as automotive, wind turbines, industrial materials, sporting goods and others. In 2018, automotive applications accounted for more than 10% of the overall market share. Emergence of carbon fiber composites is expected to open new avenues in automotive industry as its adoption can reduce overall weight significantly, thereby increasing fuel efficiency. Increasing stringent regulations regarding vehicle emission has further compelled the manufacturers to reduce vehicle weight.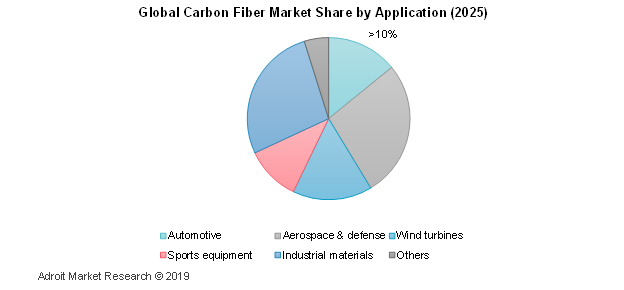 The global economy is strengthening gradually and the automotive industry is also witnessing increased vehicle production by virtue of increased demand over the past few years. With the increase in automotive fleet on road, fuel consumption has also increased. According to the U.S. Energy Information Administration, the finished motor gasoline consumption in the U.S. was 142.86 billion gallons in 2018. Owing to the growth of fuel consumption, government regulations have become more stringent. For instance, the latest U.S. regulations mandate that the average fuel economy standard must meet 54.5 miles per gallon by 2025, over the 35.5 mpg of vehicles as of now. Therefore, the automobile manufacturers are focusing on reducing the structural weight of vehicles, which in turn is expected to increase carbon fiber market concentration.
North America has been one of the oldest consumers for carbon fiber materials, mainly due to their high demand in aerospace and defense sectors. Aircraft parts such as ailerons, main wings, beams, rudders, lavatory units, tail units, floor panel, and fuselages are examples of some of the products carbon fiber is used in. Apart from aircraft, carbon fiber materials are also used in rockets and satellites. Operating from the early 1900s, North America has one of the oldest aircraft establishment bases. With the presence of well-established players like Boeing, the region leads the global aviation industry. The U.S. is a major aircraft and maintenance component exporter and is accounted for export value of more than USD 140 billion in 2018.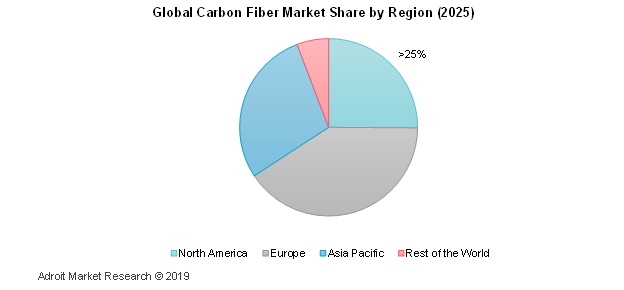 The outlook for the aerospace industry remains optimistic due to the increasing number of passengers using commercial airlines and the increasing demand for defense aircrafts. The demand for carbon fiber and its composites is increasing continuously by virtue of technological innovations and need for lightweight and strong products in the aerospace industry. For example, about 50% of the construction of Boeing's 787 Dreamliner consists of carbon fiber reinforced polymers compared to its predecessor Boeing 777, which in its structural weight consisted of only 10% carbon fiber composites.
The conflict between depleting non-renewable energy sources and severe environmental threats is expected to increase adoption of renewables in China. Wind energy source is now getting increasingly adopted in the country, which is favored by its large onshore and offshore territory. In 2018, China installed more than 20 GW of onshore wind capacity, which is more than 40% of the world market. Moreover, the country has installed more than 1.5 GW of offshore wind capacity, which is nearly 40% of the world market. The country aims to make wind energy as the key source of renewable energy according to its 2020 Clean-energy Target. Increasing steps towards expanding wind energy installed capacity will positively impact the demand for carbon fiber in the country. Carbon fiber plays a crucial role in designing wind turbine of longer length for increasing the power output owing to which the material is witnessing significant demand.