The global breast imaging market was valued at USD 2,978.7 million in 2019 and is expected to grow at a CAGR of 7.9% over the forecast period. The global market growth is attributed to advancement in technology, rising breast cancer cases coupled with increasing screening procedures. The emerging economies particularly India, and China are projected to offer lucrative growth opportunities for the market players over the forecast period.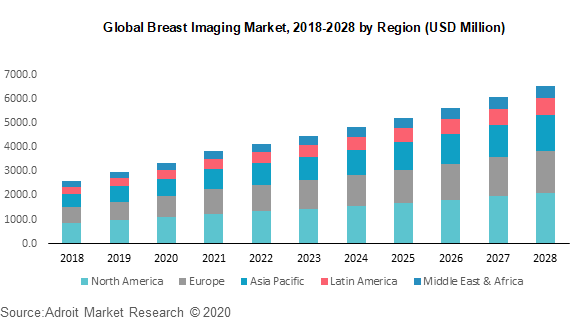 The global breast imaging market is categorized based on technology, and end-users. Region wise, North America was the largest market in 2019; however, Asia Pacific is expected to be the fastest growing region by 2028, with a CAGR of over 8%.
Key players serving the global breast imaging market include GE Healthcare, Siemens Healthcare, Hologic, Inc., Koninklijke Philips N.V., Fujifilm Holdings Corporation, CMR Naviscan, SonoCiné, AURORA HEALTHCARE US CORP, Dilon Medical Technologies, Inc., Carestream Health among other prominent players.
Key segments of the global breast imaging market
Technology Overview, 2018-2028 (USD Million)
Ionizing Technology
Non-Ionizing Technology
End-Users Overview, 2018-2028 (USD Million)
Hospitals and Clinics
Diagnostic Imaging Centers
Breast Care Centers
Other End Users
Regional Overview, 2018-2028 (USD Million)
North America
Europe

Germany
United Kingdom
France
Spain
Rest of Europe

Asia Pacific

China
Japan
India
Rest of Asia Pacific

Central and South America

Brazil
Mexico
Rest of Central and South America

Middle East & Africa

GCC
Rest of Middle East and Africa
Reasons for the study
The purpose of the study is to give an exhaustive outlook of the global breast imaging industry
The overall segmentation of breast imaging market, especially key segments are thoroughly studied.
Presence of major players and their wide product portfolio across developed countries is anticipated to further boost the growth of breast imaging market
What does the report include?
The study on the global breast imaging market includes analysis of qualitative market indicators such as drivers, restraints, challenges and opportunities
Additionally, the market competition has been evaluated using the Porter's five forces analysis
The study covers qualitative and quantitative analysis of the market segmented on the basis of technology and end user. Moreover, the study provides similar information for the key geographies.
Actual market sizes and forecasts have been provided for all the considered segments
The study includes the profiles of key players in the market with a significant global and/or regional presence
Who should buy this report?
The report on the global breast imaging market is suitable for all the players across the value chain including raw material suppliers, Breast imaging device providers, medical device manufacturers, distributors, suppliers and retailers
Venture capitalists and investors looking for more information on the future outlook of the global breast imaging market
Consultants, analysts, researchers, and academicians looking for insights shaping the global breast imaging market
Breast cancer is projected to be the market's requirement catalyst. Breast cancer is the most common cancer observed in women in England according to a UNICEF report. Around 41,000 additional cases of women in England are infected with breast cancer worldwide. Consequently, Europe's demand for these products is expected to increase over the forecast period. Along with women, breast cancer often affects few people. Breast cancer, according to the National Cancer Federation (NBCF), is the second most prevalent form of cancer globally, responsible for around 10.9 per cent of cancer incidences among both men and women. The NBCF estimated that approximately 1,700 cases of male breast cancer are reported per year.
With rising lifestyle shifts and through the length of breastfeeding particularly in developing countries, the incidence of breast cancer disease is anticipated to increase. So, the market for such imaging devices is projected to increase over the forecast era.
Technological advancements such as molecular breast imaging, robotic mammography, optical imaging, electrical impedance imaging and tomosynthesis are now propelling the business, which are anticipated to witness profitable development over the projected era. Public initiatives such as awareness-raising campaigns and support for breast cancer research and growth are projected to improve the breast imaging market.
The global breast imaging market has been segmented based on technology and end users. Based on end users, the global breast imaging market is segmented into hospitals and clinics, diagnostic imaging centers, breast care centers, and other end users. In the year 2020, hospitals and clinics dominated the global breast imaging market with over 36.1% market share. The dominance is attributed to growing investments in advancement of healthcare facilities across emerging economies coupled with rising technological advancements across the medical device industry.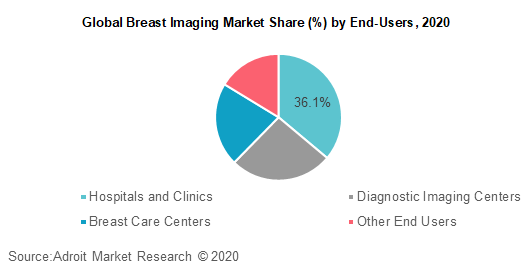 Based on technology, the global breast imaging market is segmented into ionizing technology, non-ionizing technology. These techniques can be divided according to frequency (from low to high: electromagnetic fields, infrared radiation, visible light and ultraviolet radiation) and to their general purpose (diagnostic or therapeutic). In diagnostic applications, a wide variety of new imaging modalities using non-ionizing radiation enables faster, cheaper and sometimes higher resolution anatomical imaging 'at the bedside'. Vital functions can increasingly be monitored from a distance. Flexible catheters make minimally invasive imaging and tissue ablation inside the body possible via small incisions in skin or gastrointestinal wall. The ever-smaller scale of surgical tools, tissue targeting using radiation-activated nanoparticles and miniaturized measurement devices may also help to make interventions more precise and potentially less demanding for the patient.
Based on regions, the global breast imaging market is segmented into North America, Europe, Asia Pacific, Central and South America and Middle East & Africa. North America currently holds the majority of the market share.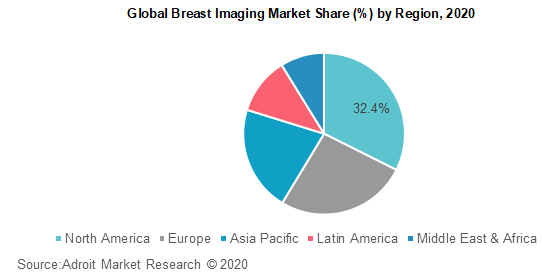 Asia Pacific breast imaging market is anticipated to witness highest growth rate owing to rising government policies for the betterment of healthcare facilities across the region. Furthermore, less developed economies as compared to China, India, and Japan are anticipated to witness low CAGR as compared to the developed economies. The burden of breast cancer remains high in low-income countries. For example, 5year survival rate is approximately 90% in developed countries, but this figure is reported to be around 60% in less developed nations in the Asia Pacific region1 and late stage at detection is a key contributory agent. Although multiple factors are linked to delayed diagnosis, advanced disease presentation suggests that diagnostic efficacy must be improved.