Blister packaging is a form of plastic packages that is primarily used for packaging foods & beverages, consumer goods, and pharmaceutical products. Durability, transparency, along with high temperature proofing are some of the prime features offered by the product. The product utilizes a lidding cover of plastic or aluminum foil or a back-up of paperboard. It further protects packed item from external environments such as contamination, humidity, and dirt. As a result, blister packaging is widely used to cover products including consumer goods, electronic items, and toys.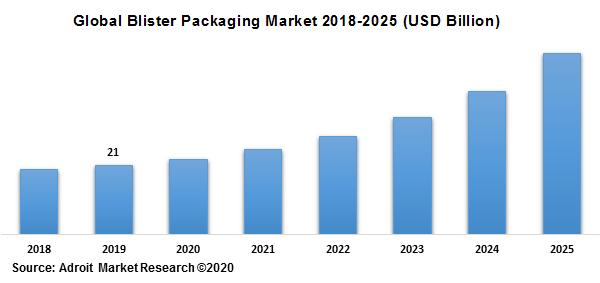 Blister packages are used to shield goods and products from external factors, including pollution and moistness, and further provides protection to light-sensitive materials from UV rays. It has long shelf life and is portable in nature. It is improved type of packaging in comparison to conventional packaging as it sustains production & tamper proofing, product integrity, compact resistance along with patient compliance.
Key segments across Blister Packaging market
Material Overview, 2018-2025, (USD Billion and kilotons)

Paper & Paperboard
Plastic Films
Aluminum

Technology Overview, 2018-2025, (USD Billion and kilotons)

Thermoforming
Cold Forming

Application Overview, 2018-2025, (USD Billion and kilotons)

Consumer Goods
Food & Beverages
Healthcare
Industrial Goods
Others

Type Overview, 2018-2025, (USD Billion and kilotons)
Regional Overview, 2018-2025, (USD Billion and kilotons)

North America
Europe

UK
Germany
Italy
France
Rest of Europe

Asia Pacific

China
India
Japan
Australia
Rest of Asia Pacific

Middle East & Africa

Saudi Arabia
UAE
South Africa
Rest of Middle East & Africa

South America

Brazil
Argentina
Rest of South America
Reasons for the study
The purpose of the study is to give an exhaustive outlook of the global Blister Packaging industry. Benchmark yourself against the rest of the market.
Be prepared for how investments across the industry will be impacted by socio-political and economic factors over the next few years
Ensure you remain competitive as new innovations by existing key players boost the market.
What does the report include?
The study on global Blister Packaging includes qualitative factors such as drivers, restraints, and opportunities.
The study covers the competitive landscape of existing/prospective players in the industry and their strategic initiatives for the product development
The study covers a qualitative and quantitative analysis of the market segmented on the basis of material, technology, application and type. Moreover, the study provides similar information for the key geographies.
Actual market sizes and forecasts have been provided for all the above-mentioned segments.
Who should buy this report?
This study is suitable for industry participants and stakeholders in the global Blister Packaging industry. The report will benefit:
Every stakeholder involved in manufacturing and distributing components or solutions.
Managers within financial institutions looking to publish recent and forecasted statistics pertaining to the global Blister Packaging industry.
Government organizations, regulatory authorities, policymakers, and financial organizations looking for investment trends in the global Blister Packaging industry.
Analysts, researchers, educators, strategy managers, and academic institutions looking for insights into the market to determine future strategies.
Blister packaging industry operates through backward integration and functions in tandem with raw material suppliers. The raw material is utilized to develop blister packages through cold forming and thermoforming processes, which is then molded in different shape and design according to the customization. End users of the product include pharmaceutical, toy manufacturer, consumer goods, electronic items, and cosmetic industry.
Increasing awareness for packaged products along with ongoing technological advancements across the packaging industry is escalating the product demand. The blister packaging has witnessed a large scale adoption owing to its capabilities to avoid contamination, protection from moisture, oxygen, temperature, light, and gas. The product offers wide a range of shape and design flexibility along with its appealing appearance features, which in turn has expanded its applications. The product has witnessed its applications across consumer good, electronic products, household application, and food & beverage industry that in turn is driving the industry size.
Material Segment
On the basis of the insulation type segment, the market is categorized paper & paperboard, plastic films, and aluminum segment. Plastic segment dominates the global Blister Packaging market in 2018 and is anticipated to dominate the industry for the forecast period 2019-2025.
Technology Segment
Blister Packaging market is segmented into thermoforming and cold forming. In this segment, thermoforming segment is anticipated to hold a substantial share in the coming years.
Application Segment
On the basis of application segment, the market is segmented into consumer goods, food & beverages, healthcare, industrial goods, and others. The healthcare segment is analyzed to hold a significant share across the regions.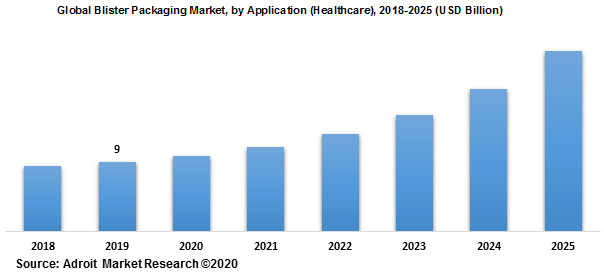 Propulsion Type Segment
The solution segment is bifurcated into clamshell and carded. The clamshell segment is poised to witness substantial growth over the forecast timeframe on account of the rising adoption of product across the healthcare sector.
Rising disposable income along with cost effectiveness has escalated the demand from developing countries. Although, environmental impact associated with disposal of the product is hampering the industry growth. However, growing demand from end-user industry along with ongoing technological development to improve its recyclable characteristics will drive the industry growth in the coming years.
In 2018, Asia Pacific is analyzed to hold a major share in terms of regional size, and is projected to witness the same pattern over the forecast timeframe. Positive government outlook toward establishment of product manufacturing facilities owing to a large consumer base. Abundant availability of raw material along with cheap labor cost and is further fueling the fund flow in the region. In addition, the presence of the multiple industries production center including electronic, consumer goods, in turn is positively impacting industry landscape.
The major players operating across the global Blister Packaging market include Dow Chemical Company, Bemis Company, Inc., WestRock Company, Sonoco Products Company, DuPont, Constantia Flexibles and Klockner Pentaplast Group, including others. The industry for Blister Packaging is integrated with the participation of established global players across the globe. In addition, these companies are focusing on expanding their footprint through implementation of inorganic as well as organic strategies which in turn is proliferating the business outlook.