Global bio plasticizers market accounted for a market revenue of USD 1.19 billion in the year 2019 and is projected to grow at a CAGR of more than 8.33 % over the forecast period. With rising environmental concerns and depletion of petrochemical resources, biomass-based chemicals have been paid more attention. Polyvinyl chloride (PVC) bio-mass plasticizers have been widely studied to replace petroleum plasticizers. This mainly includes Epoxidized Soybean Oil (ESBO), Citrates, Castor Oil, Succinic Acid, Glycol Esters.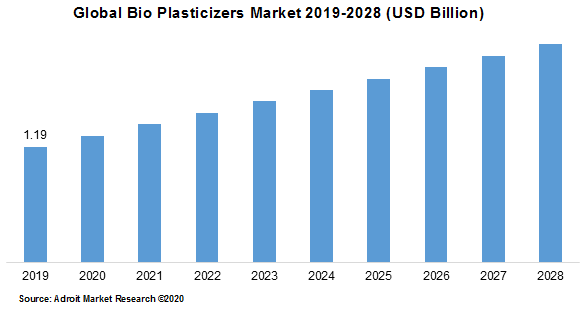 The growth of this market is being fuelled by increased urbanization with large volumes of disposable income in developing countries. Plasticizers are among the most important additives required for the processing of polymer materials, especially polyvinyl chloride (PVC) plastics, which accounts for more than 60% of the total yield of plastic auxiliaries. The most widely used plasticisers in the world are standard petroleum phthalate. Traditional petroleum phthalate plasticizers are the most used in the world. A significant proportion of the overall production and sales, however, are slowly restricted due to possible risks to human health and the environment, in terms of yield and use of the conventional phthalate plasticizer.
Key segments across Bio Plasticizers market
Type Overview, 2019 – 2028 (USD Billion)

Epoxidized Soybean Oil (ESBO)
Citrates
Castor Oil
Succinic Acid
Glycol Ester

Application Overview, 2019 – 2028 (USD Billion)

Packaging Materials
Consumer Goods
Building & Construction
Medical Devices
Automotive
Others

Regional Overview, 2019 – 2028 (USD Billion)

North America
Europe

Germany
UK
France
Rest of Europe

Asia Pacific

China
India
Japan
Rest of Asia-Pacific

Central & South America
Middle East & Africa
Reasons for the study
The purpose of the study is to give an exhaustive outlook of the global Bio Plasticizers. Benchmark yourself against the rest of the market.
Be prepared for how Metal industry investments and Bio Plasticizers will be impacted by socio-political and economic factors over the next few years
Ensure you remain competitive as new innovations by existing key players boost the market.
What does the report include?
The study on the global Bio Plasticizers includes qualitative factors such as drivers, restraints, and opportunities.
The study covers the competitive landscape of existing/prospective players in the industry and their strategic initiatives for the Form development
The study covers a qualitative and quantitative analysis of the market segmented on the basis of derivative and application. Moreover, the study provides similar information for the key geographies.
Actual market sizes and forecasts have been provided for all the above-mentioned segments.
Who should buy this report?
This study is suitable for industry participants and stakeholders in the global Bio Plasticizers. The report will benefit:
Every stakeholder involved in manufacturing and distributing components or solutions.
Managers within financial institutions looking to publish recent and forecasted statistics pertaining to the global Bio Plasticizers.
Government organizations, regulatory authorities, policymakers and financial organizations looking for T&D investment trends in global Bio Plasticizers.
Analysts, researchers, educators, strategy managers, and academic institutions looking for insights into the market to determine future strategies.
Frequently Asked Questions (FAQ) :
What is the market value of bio plasticizers market in 2028?
The major contenders in the global market are Lanxess AG, Emery Oleochemicals LLC, Dow Dupont, Evonik Industries, Danisco US Inc., BASF, Bioamber Inc., PolyOne Corporation, Myriant Corporation, Vertellus Holdings LLC
To get latest version of bio plasticizers market report can be obtained on demand from the website.
The development of non-toxic plasticizers for the environment and biodegradable bio-based plasticizers for phthalate replacement was an extremely important field of research. The development, manufacture, and application of non-toxic green plasticizers with high performance in food packaging, electrical insulation and health and medical products is continually underway.
Epoxidized plasticizer is a type of environmentally friendly plasticizer for the rubber, plastics and new polymer materials industries. In comparison to other plasticizer, in the epoxy structure, the epoxy group can absorb and neutralize hydrogen chloride released by PVC during light or thermos-degradation that restricts or delays the continuous breakdown of PVC, provides good light and thermal stability for PVC products and extends their life cycles.
In terms of geography, the global Bio Plasticizers is segmented into North America, Europe, Asia Pacific, Central & South America, and Middle East & Africa. North America is projected to lead the global market owing to advancement in the technology and presence of key industrial players.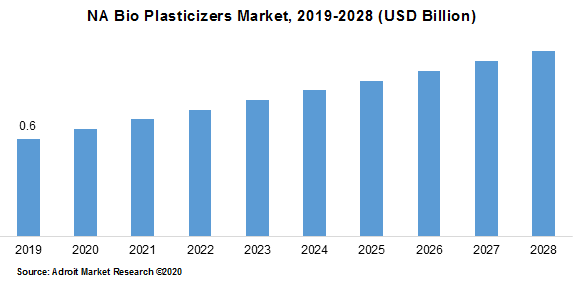 Key players include Lanxess AG, Emery Oleochemicals LLC, Dow Dupont, Evonik Industries, Danisco US Inc., BASF, Bioamber Inc., PolyOne Corporation, Myriant Corporation, Vertellus Holdings LLC