The global aviation consulting market was valued at USD 10.9 billion in 2019 riding on the strong demand from airline operators to optimize the operation costs in the wake of fluctuating fuel prices and other economic factors. The demand for air travel has risen exponentially as a result of various factors which include liberalization, innovative business models, increasing urbanization, rising number of working population and the resultant spurt in middle class incomes. In order to meet the rising demand and efficient management of the supply chain, the airline operators are heavily relying on consulting firms to provide indigenous solutions. The emergence of low cost airline business, and growing initiatives to restructure airports integrated with green technology is expected to drive the market during the forecast period.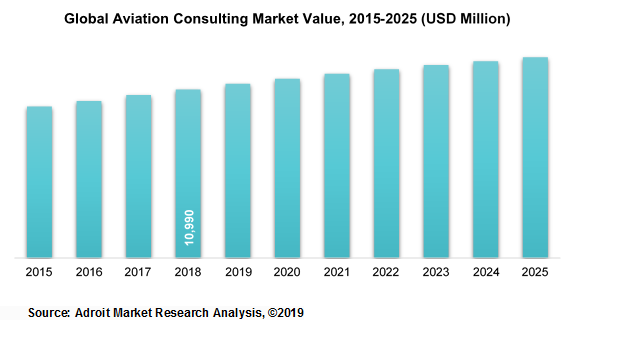 Aviation Consulting Market Scope
| | |
| --- | --- |
| Metrics | Details |
| Base Year | 2019 |
| Historic Data | 2017-2018 |
| Forecast Period | 2020-2025 |
| Study Period | 2015-2025 |
| Forecast Unit | Value (USD) |
| Revenue forecast in 2025 | USD 10.9 billion |
| Growth Rate | CAGR of 2.4% during 2021-2028 |
| Segment Covered | Service Line,Application, Regions |
| Regions Covered | North America, Europe, Asia Pacific, South America, Middle East & Africa |
Key segments of the global aviation consulting market
Service Line Overview, 2014-2025 (USD Million)
Advisory

Independent Consultants
Specialist Aviation Consultants
Generalist consultancies

Asset Management

Narrow Body
Wide Body
Regional Jets
Turboprop Jets

Remarketing

Narrow Body
Wide Body
Regional Jets
Turboprop Jets

Others
Application Overview, 2015-2025 (USD Million)
Regional Overview, 2015-2025 (USD Million)
North America
Europe

Germany
France
UK
Italy
Russia
Rest of Europe

Asia Pacific

Japan
Southeast Asia
India
Australia
Rest of Asia-Pacific

Central and South America

Brazil
Argentina
Rest of Central and South America

Middle East & Africa

Egypt
South Africa
GCC
Rest of Middle East & Africa
Reasons for the study
The purpose of the study is to give an exhaustive outlook of the global aviation consulting market.
The aviation industry is witnessing declining in the wake of economic shocks resulting in higher operation costs. This has raised the emphasis on cutting down the op-ex and deploy cost effective methods to tackle different operational challenges.
Furthermore, aviation manufacturers are also leveraging on the managerial know-how of the consultants to integrate fluidity into their supply chain and optimize their outputs.
What does the report include?
The study on the global aviation consulting market includes qualitative factors such as drivers, restraints, and opportunities
The study covers qualitative and quantitative analysis of the market segmented on the basis of service line, application and region. Moreover, the study provides similar information for the key geographies.
Actual market sizes and forecasts have been provided for all the above-mentioned segments
The study includes the profiles of key players in the market with a significant global and/or regional presence
Who should buy this report?
This study is suitable for industry participants and stakeholders in aviation industry, who want an in-depth insight for service line offered by different types of consultants and for different types of plane body.
The report will benefit:
Executives of airline operator companies that are engaged in remarketing of planes
Managers within financial institutions looking to publish recent and forecasted statistics pertaining to aviation consulting.
Venture capitalist looking into investing capital
Government organizations, regulatory authorities, policymakers and financial organizations looking for innovative solutions.

Analysts, researchers, educators, strategy managers, and academic institutions looking for insights into the market to determine future strategies.
Airline industry mergers are taking place in line with modifications in the aviation industry's vibrant financial circumstances. As global markets were gradually deregulated, the nature of global aviation has altered dramatically. Mergers are regarded as an effective reaction to deregulation. Airline industry deregulation has also resulted to an increase in low-cost airlines. The sector of airlines is a cyclical sector. Airline fusions are essentially designed to survive financially and decrease overcapacity
M&A (mergers and acquisitions, as we understand it, have lately altered in the aerospace and defense sector. Instead of megamergers for cost savings and synergies, the present M&A activity in aerospace and defense focuses on purchases that supply fresh goods and expand into markets like Asia, the Middle East and beyond. Although this is a good news for the industry, aviation and defense businesses need to comprehend the nuances of this shift and prepare themselves to take on the difficulties and opportunity to make a merger or takeover. For instance, buyers or investors must consider how a business that has or has few competitors in a brief economic history can be appreciated or has not earlier operated in a nation. Integrating abroad has its own obstacles, which could lead to inefficient operation and inability to achieve procurement advantages. Here is where, the consultants have a major role to play and the aviation operators are acknowledging the significance of consultants in developing a successful deal.
To help companies overcome challenges that may surface during this next wave of aerospace and defense M&A, aviation consultants analyze M&A data and interview leading industry advisors. These consultants come up with solution which assist aerospace and defense companies to re-evaluate their approach to value creation using M&A. Furthermore, the impact of tax reform on valuation, and list challenges that acquirers may face along with potential solutions are also thoroughly examined by the consultants.
The table below is an informal collection of mergers and acquisitions that have been finished (not simply suggested) since the start of the U.S. airline industry.
| | | | |
| --- | --- | --- | --- |
| Title | Announced | Closed | Resulting Entity |
| Republic Airways / Midwest Airlines | 6/23/2009 | 7/31/2009 | Republic Airways |
| Republic Airways / Frontier Airlines | 8/14/2009 | 10/1/2009 | Republic Airways |
| Delta Air Lines / Northwest Airlines | 4/14/2008 | 12/31/2009 | Delta Air Lines |
| Pinnacle Airlines / Mesaba Airlines | 7/1/2010 | 7/1/2010 | Pinnacle Airlines / Mesaba Airlines |
| United Airlines / Continental Airlines | 5/3/2010 | 10/1/2010 | United Airlines |
| SkyWest / Atlantic Southeast Airlines / ExpressJet Airlines | 8/4/2010 | 11/15/2010 | SkyWest / SureJet |
| Southwest Airlines / AirTran Airways | 9/27/2010 | 5/2/2011 | Southwest Airlines |
| US Airways/AMR/American Airlines | 2/14/2013 | 12/9/2013 | American Airlines (AAL) |
| Atlas Air / Southern Air | 1/19/2016 | 4/7/2016 | Atlas Air Worldwise (AAAW) |
| FedEx / TNT Express | 4/27/2015 | 5/25/2016 | FedEx |
| Alaska Airlines / Virgin America | 4/4/2016 | 12/14/2016 | Alaska Airlines |
Source: Airlines for America, Adroit Market Research Analysis, 2019
Therefore, the growing volume of mergers and acquisitions in the aviation industry is expected to drive the demand for aviation consulting, thereby accelerating market growth during the forecast period.
The airline industry has distinctive characteristics that make it very different from other kinds of businesses, some of which are extremely cyclical, competitive, seasonal, controlled, low profitability, capital-intensive, cost-intensive, extremely qualified and sensitive. Consequently, airlines face the challenge of handling both operational and aircraft residual value hazards along with maintaining profitability and flexibility of the fleet. This has enabled asset management segment to gain dominance over other service lines in the global aviation consulting market. This segment accounted for more than 50% of the overall market.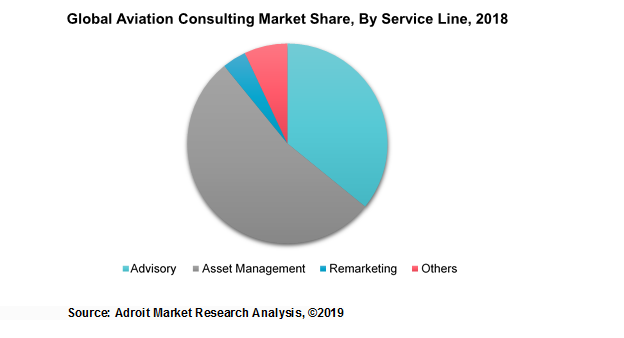 The rising demand for asset management services in particular is because of the fact that aircraft values are subjected to economic cycles and fluctuations in the economy. The aviation consultants analyze the ownership and funding framework that the airline operators will use for each aircraft shipment months before it occurs in order to minimize danger, price, maximize money and optimize the helpful life of the aircraft asset management. Consequently, in selecting the best asset management tool among the distinct ownership and/or funding structures, financial and market circumstances close to each aircraft shipment play a crucial role. Thus aviation consultants play an important role in effectively managing the fleet of airline operators.
There is certainly continued, powerful growth for business aviation–most particularly from emerging markets. There is also a need to drive fuel efficiency further, and businesses use big data to assist them know and predict when parts need attention. These and more variables have all led in the aerospace industry building, repairing and maintaining business and military fleets resorting to assistance from the global aviation consulting market. There is little doubt that evolving technologies, electrical propulsion, and intelligent new materials will bring about additional possibilities, change, and difficulties in the aviation industry. Therefore, the aviation operators globally are using the assistance of consultants to understand the scale of these challenges to effectively manage existing fleets and make the most of the opportunities that will be presented in the future.
The primary driver of the North America aviation consulting market is the presence of numerous reputed and large consulting companies and large aircraft carriers. The presence of big aircraft manufacturers, airline operators, and aircraft lesser have resulted in the mounting demand for efficient processes which include, asset management, advisory services, and remarketing of used aircrafts. Furthermore, declining profits as a result of the slowing economy is making it difficult for demand to keep up with the rising capacity costs. This has led to the airlines operators and manufacturers to employ consultants to tackle the operational issues and come up with effective solutions.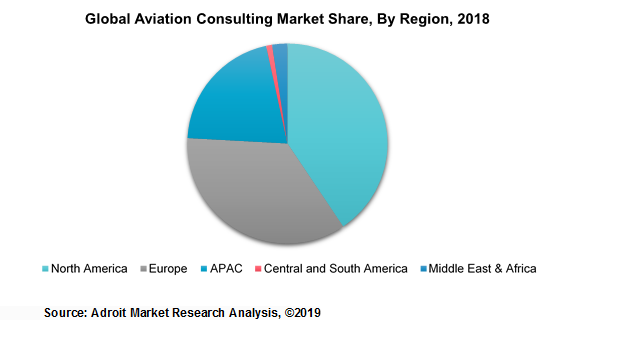 For the travel industry, the capacity to capture future aircraft demand has always been a difficult element. With the ever-increasing sector and the existing disruptions that prevent the sector from delivering the necessary amount of aircraft, the productivity of the sector as a whole is greatly affected. Therefore, the aviation industry is working with consulting organizations to assist and satisfy present and future difficulties. This is expected to drive the demand for aviation consulting market in this region in the coming years.