The value of the Application Control market is projected to grow to $64.3 billion with an estimated CAGR of 21.5% by 2030
Application control software is a type of security software that helps to protect the privacy and security of data utilized by and communicated between applications by blocking or restricting illegitimate programmes. The industry is frequently faced with sophisticated and persistent attacks, which include malware, ransomware, social engineering and phishing attacks, file-less malware, rootkits, and injection attacks. Accenture estimates an average loss of USD 18 million per year at financial services institutions. Both zero-day attacks and ransomware are on the rise. Ransomware especially can negatively affect financial workflows, inflicting costly downtime, and further damaging business reputations. Application control software aids in the identification and control of applications within an enterprise's IT environment, as well as the automatic identification of trustworthy software with permission to run. The rising adoption of the BYOD trend and other mobility solutions is projected to accelerate the use of application control solutions. Bring Your Own Device (BYOD) is growing as a key trend in the workplace, where employees' freedom and network connectivity is rising globally. Trends like BYOD make the workplace more productive.
This can be ascribed to the need to protect data against threats of application usage and data security policies pertaining to the increasing demand for automating of application control processes. It offers new opportunities for key players operating in the global application control market. Besides, the implementation of cloud-based solutions is affecting the market in a positive manner.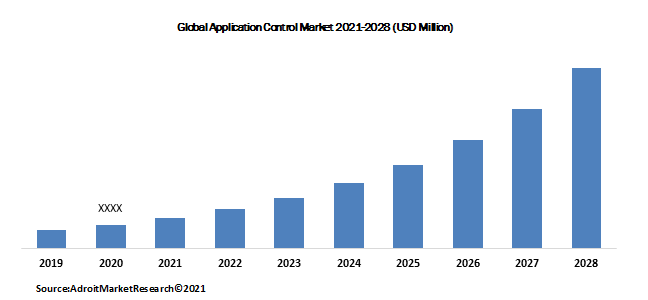 However, impact on end user experience and shadow it risks are hampering the market growth. Furthermore, the rise in demand for integrated security solutions and increase in adoption of byod trend among organizations is likely to provide lucrative development opportunities for the accounts receivable automatioApplication Control Market in the forthcoming years.
Application Control Market Scope
| | |
| --- | --- |
| Metrics | Details |
| Base Year | 2022 |
| Historic Data | 2020-2021 |
| Forecast Period | 2022-2030 |
| Study Period | 2020-2030 |
| Forecast Unit | Value (USD) |
| Revenue forecast in 2030 | $64.3 billion |
| Growth Rate | CAGR of 21.5 % during 2022-2030 |
| Segment Covered | By Service-Type, Region. |
| Regions Covered | North America, Europe, Asia Pacific, South America, Middle East and Africa |
| Key Players Profiled | Accenture (Ireland), Atos (France),Infosys (India),OracleCorporation(U.S.),SAP(Germany),Deloitte (U.S.), Dell Inc. (U.S.), Optimum Solutions (Singapore), Neoris (U.S), Sierra-Cedar, Inc. (U.S.), Capgemini (France), Cognizant (U.S.), Fujitsu (Japan), DXC (U.S.), HCL (India), IBM (U.S.), Wipro (India), and Tech Mahindra (India) |
Key Segments of the Global Application Control Market
Component Overview, 2021-2028 (USD Million)
Solution
Service

Managed Services
Professional Services
Access Point Overview, 2021-2028 (USD Million)
Desktops/Laptops
Services
Mobiles/tablets
Others
Organization Size Overview, 2021-2028 (USD Million)
End Use Overview, 2021-2028 (USD Million)
Government & Defense
BFSI
IT & Telecom
Healthcare
Retail
Oil & Gas
Others
Regional Overview, 2021-2028 (USD Million)
North America
Europe

UK
Germany
France
Italy
Spain
Rest of Europe

Asia Pacific

China
Japan
Australia
Singapore
Malaysia
Rest of Asia Pacific

Middle East and Africa (MEA)

UAE
South Africa
Saudi Arab
South America

Brazil
Rest of South America
Reasons for the study
The purpose of the study is to give an exhaustive outlook of the global Application Control Market. Benchmark yourself against the rest of the market.
Ensure you remain competitive as innovations by existing key players to boost the market.
What does the report include?
The study on the global Application Control Market includes qualitative factors such as drivers, restraints, and opportunities
The study covers the competitive landscape of existing/prospective players in the application control industry and their strategic initiatives for product development.
The study covers a qualitative and quantitative analysis of the market segmented based on Components, Access Point, Organization Size, and End User. Moreover, the study provides similar information for the key geographies.
Actual market sizes and forecasts have been provided for all the above-mentioned segments.
Who should buy this report?
This study is suitable for industry participants and stakeholders in the global Application Control Market. The report will benefit Every stakeholder involved in the Application Control Market.
Managers within the application control industry looking to publish recent and forecasted statistics about the global Application Control Market.
Government organizations, regulatory authorities, policymakers, and organizations looking for investments in trends of the global Application Control Market.
Analysts, researchers, educators, strategy managers, and government institutions looking for insights into the market to determine future strategies.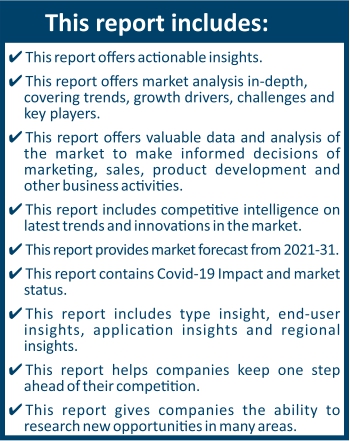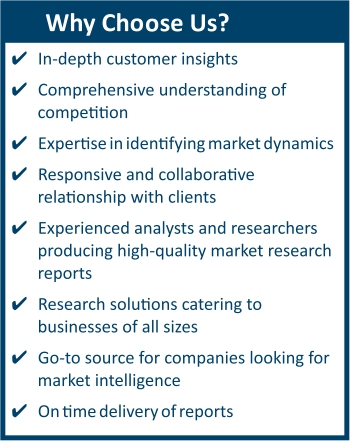 Frequently Asked Questions (FAQ) :
The application control market is growing at a CAGR of 5.2 over the next 5 years.
Increasing dead for the application control in various end use sectors is fuelling growth of the target industry as application controls are used in the major application sectors such as banking, financial services, and insurance.
Global demand for application control market is expected to generate revenue of around USD 1.6 Billion by end of 2028, growing at a CAGR of around 5.2 % between 2021-2028
North America accounted for the largest market share in the global application control market owing to the presence of a large number of application control manufacturers.
Some main participants of the application control market are Trend Micro, Check Point Software Technologies Ltd., Symantec Corporation, Arellia, Intel Security, MNM DIVE Methodology, Digital Guardian, AppSense
With the increased employment of software applications in different industries, and the growing trend of remote working culture in enterprises,the employees are increasingly using different applications such as PCs and mobiles in the offices, and companies are running servers on a variety of operating systems, which can lead to cyber threats at any instance. Hence, the deployment of application control is on the rise to maintain application security and control, supporting the endpoint flexibility. The rapidly increasing adoption of the BYOD trend and other mobility solutions is expected to adopt application control solutions further. Bring Your Own Device (BYOD) is emerging as a leading trend in the enterprises, where flexibility, and network accessibility for employees for various organizations is increasing globally, trends like BYOD make the workplace more productive.
Application control is a comprehensive solution and allows businesses and organizations to reduce the risks and threats associated with application usage and enhance the security of applications. Furthermore, end-users and regulatory agencies are increasingly focusing on enhancing overall IT security and infrastructure to minimize data loss and cyber-attacks, which is expected to drive market growth during the forecast period. However, problems such as poor enforcement of cyber-security rules among small and medium market players due to a lack of financial resources could impede market expansion.
The BFSI industry faces several challenges regarding its data security as compared with other end-users, which are the major driving forces for the deployment of application control solutions in the industry. The industry is vulnerable to various types of attacks from cyber criminals due to the high sensitivity of data. An application control audit is designed to ensure that the transactions through applications and the data it outputs are secure, accurate, and valid. The application control audit services are gaining high momentum as the applications are becoming the primary target of attack for different malicious activities. These services ensure that the software is free from errors and vulnerabilities that could be exploited by hackers.
However, the market is expected to become fragmented in the forthcoming years as several new market players are emerging from developing countries such as India, Japan, China, and other countries.
Component Segment
Based on the Component segment, the market is bifurcated into services and solutions. In 2020, services segment was expected to grow significantly of the Application Control Market. Because these services assist organizations in implementing, integrating, and monitoring the application control environment through established industry-best practices, the application control services segment is expected to play a key role in changing the security landscape and grow at the fastest rate during the forecast period.
Access Point Segment
Based on the Access Points, the market is segmented into desktops/laptops, servers, mobiles/tablets, and others. The desktop/laptops segment acquired the largest share of the Application Control Market in terms of access points in 2020. Application control solutions protect laptops by blocking the execution of undesired and ineffective applications, as well as malicious code, on a network.
Organziation SIze Segment
Based on the organization size, the market is segmented into SMEs and large enterprises. The SMEs is predicted to achieve the largest growth during the forecast years 2021-2028 due to the increased digitalization among SMEs. The adoption of IoT, Servers, and AI are networks and wireless technologies that SMEs are rapidly deploying. The rise of BYOD in SMEs is allowing them to move away from traditional firewalls and toward advanced network security solutions.
End User Segment
Based on the industry vertical, the market is segmented into BFSI, IT & telecom, retail, government and public sector, healthcare, oil & gas, others. The BFSI sector is expected to be the leading end use vertical, over the projection period. Banks and financial organizations are increasingly turning to application control solutions to conduct secure transactions.
North America is likely to gather noteworthy growth through the forecast years 2021-2028. The growth of the Application Control Market in this region is mostly ascribed due to strong adoption of security solutions by small & medium enterprises to protect end-user data. The region also has very strong policies and regulations with regards to data breach which is also pushing the growth of the market within the region. However, the implementation of Application Control Market is increasing in Asia Pacific region as it provides the greatest growth prospects due to the launch of your own system (BYOD) to account for the maximum market contribution during the forecast years. The domination of this region is largely ascribed to the large number of growing ecenomies.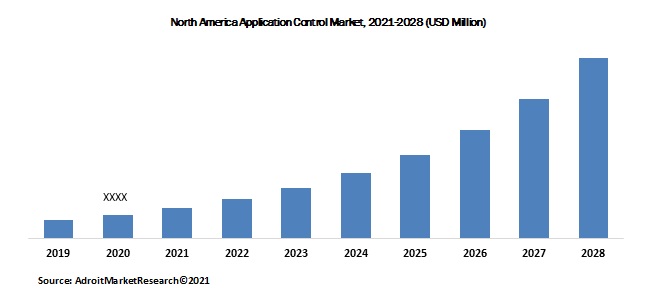 The major players of the global Application Control Market Trend Micro Inc., McAfee, LLC, Fortinet, Inc., Ivanti Inc., Checkpoint Software Technologies Ltd., Veracode, Inc., WatchGuard Technologies, Inc., Comodo Group, Inc., VMware, Inc., Thycotic Software, LLC, Symantec Corporation, Intel Security, CyberArk, Digital Guardian, and HEAT Software USA Ltd. Renowned companies are offering new and modern Application Control solutions. In addition, the previously recognized as well as new market players are approaching the market with advanced and new strategic services and solutions and to remain competitive in the global market.