Antivirus is a sort of software designed to protect a computer, laptop, or mobile device against malware such as viruses, worms, and rootkits. They may steal sensitive information or cause the system to slow down. Each file's attributes are checked by the antivirus to ensure that it is not a harmful file. There are many different types of antivirus on the market. Full scan, custom scan, and fast scan are the most common scanning methods used by antivirus software.
Covid-19 Impact:
As the implications of the unprecedented pandemic spread far and wide affecting businesses, the overall growth trajectory has been hit severely. This report has been designed following in-depth research practices, followed by a detailed analysis of the companies. Each of the companies has been studied to understand their initiatives in pandemic management. The report allows readers to develop various growth-directed strategies to sustain the competitive lead.
This report delivers a detailed account of the multiple changes that are lurking in the global antivirus software market. The downstream and upstream industry alterations are heavily influenced by the Covid-19 impact. Market participants are thoroughly experiencing stark changes in the industry growth flow owing to new trends development. Market players are actively seeking new investment protocols to understand current dynamics and re-assure growth in the global antivirus software market
Based on type,
Computers, tablets, cell phones, and other devices all use antivirus software. Anti-virus software solutions are integrated to improve virus scanning and prevention of viruses and malware. Because of the increased need for laptop security, the laptop category is likely to produce higher income. The moving trend towards laptops will drive the demand for anti-virus software.
Based on Operating System,
MAC, Android/IOS/Linux, and Windows are identified as three broad segments based on the operating system in the global antivirus software market. The most used operating system around the globe are windows and MAC. The demand for these operating systems are expected to show a significant rise.
Based on Region,
Because of the existence of large operational companies and expanding investments, North America is likely to have a significant revenue share in the globe. Over the projection period, Asia-Pacific is expected to have the greatest growth rate Or CAGR. During the projection period of 2021-2028, factors such as a growing need for secure enterprise data systems and an increase in the number of big and small businesses will provide attractive growth opportunities for the Asia-Pacific region.
The worldwide antivirus software package market is driven by an increase in the number of agreements between antivirus software suppliers, smartphone manufacturers, and telecom services providers. Furthermore, the expansion is fuelled by an increase in internet reliance and usage, the popularity of cloud-based antivirus, and the necessity to protect information and data.
At a CAGR of 3.2 percent, the worldwide antivirus software industry is predicted to advance from $3.80 billion in 2020 to $3.92 billion in 2021. The global antivirus software market growth is significantly shaped by the rapid adoption by the corporates to enable smooth operations in the Covid times influencing the new normal. At a CAGR of 3.8 percent, the antivirus software market is estimated to reach $5.08 billion in 2028.
In the future years, the rising number of cyber-attacks is predicted to fuel the expansion of the antivirus software industry. Hacking and data breaches on computers, laptops, and mobile devices are on the rise, thanks to viruses and malware. Antivirus software can stop viruses and malware from infecting your device, as well as protect you against assaults. For example, in 2020, Air India, an Indian airline, claimed that hackers had breached its computers and acquired the personal information of 4.5 billion passengers. In India alone, 1.16 billion cyber security lawsuits would be filed in 2020. As a result, the market for antivirus software is driven by the rising incidence of cyber-attacks.
Cloud-based antivirus is becoming increasingly popular in the antivirus software industry. With the rise in hacking, data breaches, and data theft, major antivirus companies are investing heavily in the development of better software. In every industry, security has become a big concern. For their businesses, everyone is seeking for reliable and secure antivirus solutions. This has resulted in explosive expansion in the antiviral sector. With the rise in demand for smartphones and tablets, the antivirus business has also grown in recent years. Because the majority of people do financial transactions on their smartphones or tablets. With the rise in malicious assaults, users are downloading antivirus software on their smartphones and tablets to provide total security and data protection. According to McAfee research, 80% of parents are concerned about who their children are communicating with online, and 34% have discovered their children are visiting an inappropriate website. McAfee teamed with LG to give better parental control in LG smartphones in order to provide a solution where parents can oversee their children's activities. The location tracking and banning of apps/URLs that are improper for them will be the most important features of smartphones.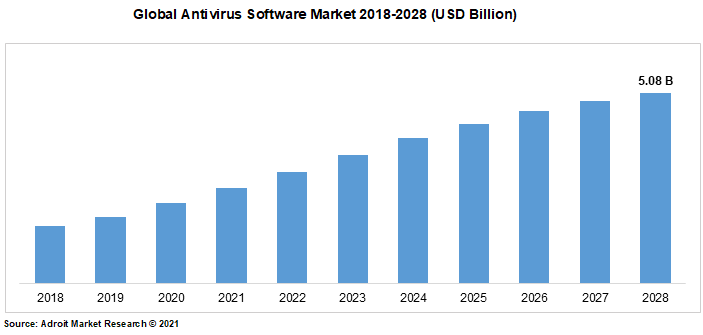 Major players operating in the global antivirus software market include Panda Security AVG Technologies, Lavasoft, Kaspersky, Ad-Aware, Symantec, Cheetah Mobile, Trend Micro, ESET, Fortinet, and Microsoft Corporation,. These solution suppliers are investing heavily in research to create new technologies in order to get a greater portion of the market in the next years. Also, these firms are undersigning partnership agreements with local businesses for operational efficiency and geographic expansion across regions.
Antivirus Software Market Scope
| | |
| --- | --- |
| Metrics | Details |
| Base Year | 2020 |
| Historic Data | 2018-2019 |
| Forecast Period | 2021-2028 |
| Study Period | 2018-2028 |
| Forecast Unit | Value (USD) |
| Revenue forecast in 2028 | USD 18.35 Billion |
| Growth Rate | CAGR of 13.94% during 2021-2028 |
| Segment Covered | By Type, By Operating Systems, Regions |
| Regions Covered | North America, Europe, Asia Pacific, South America, The Middle East and South Africa |
| Key Players Profiled | Panda Security AVG Technologies, Lavasoft, Kaspersky, Ad-Aware, Symantec, Cheetah Mobile, Trend Micro, ESET, Fortinet, and Microsoft Corporation, |
Key Segments of the Global Antivirus Software Market
By Type:
Computers
Tablets
Smart Phones
By Operating Systems:
Windows
MAC
Android
IOS
Linux
Regional Overview, 2018-2028 (USD Billion)
North America
Europe
Germany
France
UK
Rest of Europe
Asia Pacific
China
India
Japan
Rest of Asia Pacific
South America
Mexico
Brazil
Rest of South America
Middle East and South Africa
Frequently Asked Questions (FAQ) :
The market value of antivirus software market in 2028 was $5.08 billion.
The antivirus software market is growing at a CAGR of 3.8% over the forecast period.
North America dominated the market for antivirus software market and accounted for the largest revenue share.
The top companies that hold the market share in antivirus software market are Panda Security AVG Technologies, Lavasoft, Kaspersky, Ad-Aware, Symantec, Cheetah Mobile, Trend Micro, ESET, Fortinet.
To get latest version of antivirus software market report can be obtained on demand from the website.