Since their discovery, antibiotics have played an essential role in the treatment of infections in humans and animals, and have significantly improved public health. The use of antibiotics appears to be very high in some parts of the world, suggesting their overuse, whereas it is low in others, which may indicate limited access to these life-saving medicines.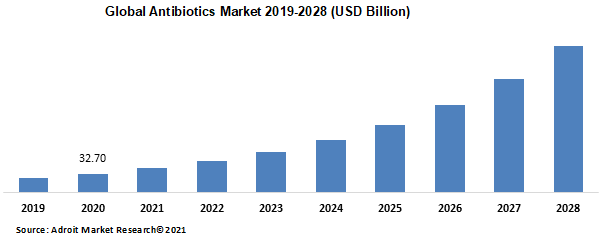 The global antibiotics market size is valued at USD 32.70 billion in 2020. Increasing prevalence of infectious diseases and rising disposable income leading to increasing access to antibiotics are the major factors driving the global antibiotics market. However, growing burden of antibiotic resistance and increase in drug approval costs may hamper the market growth.
Key Segments of the Global Antibiotics Market
Drug Class Overview, 2019-2028 (USD Billion)
Broad Spectrum Penicillins
Cephalosporins
Macrolides
Quinolones
Tetracyclines
Narrow Spectrum Penicillins
Trimethoprim & Combinations
Others
Route of administration Overview, 2019-2028 (USD Billion)
Regional Overview, 2019-2028 (USD Billion)
North America
Europe
UK
Germany
France
Rest of Europe
Asia Pacific
China
Japan
India
Rest of Asia Pacific
South America
Brazil
Mexico
Rest of South America
Middle East and Africa
GCC
South Africa
Rest of Middle East and Africa
Reasons for the study
The purpose of the study is to give an exhaustive outlook of the global antibiotics market
Increasing prevalence of infectious diseases and HAIs
What does the report include?
The study on the global antibiotics market includes qualitative factors such as drivers, restraints, and opportunities
The study covers a qualitative and quantitative analysis of the market segmented based on product, and end-use. Moreover, the study provides similar information for the key geographies.
Actual market sizes and forecasts have been provided for all the above-mentioned segments.
The study covers the competitive landscape of existing/prospective players in the antibiotics industry and their strategic initiatives for product development
Who should buy this report?
This study is suitable for industry participants and stakeholders in the global antibiotics market
Every stakeholder involved in developing and distributing pharmaceutical drugs and medicines
Product managers looking to publish recent and forecasted statistics pertaining to the global antibiotics market
Government organizations, regulatory authorities, policymakers, and organizations looking for investments in trends of the global antibiotics market
Analysts, researchers, educators, strategy managers, and government institutions looking for insights into the market to determine future strategies
With the growing antibiotics administration, a parallel upsurge in antimicrobial resistance (AMR) is becoming a major threat to human development as it affects our ability to treat a range of infections caused by bacteria, parasites, viruses and fungi. Patients with resistant infections have to pay higher treatment costs in comparison to patients with non-resistant infection due to extended period of illness, the requirement for exclusive medicines and added tests. In order to tackle the additional burden coming from antimicrobial resistance, many pharmaceutical giants are developing stewardship strategies to monitor the use of antimicrobials in humans and animals, along with the antimicrobial load in the environment. Moreover, these strategies also emphasize on the development of new antimicrobial medicines to substitute those becoming less effective.
Finding the right balance between access and stewardship requires a concerted effort by multiple sectors (including farming and agriculture) and stakeholders (including governments and healthcare professionals). Pharmaceutical companies play a central role, due to their unique proficiency in transforming scientific innovations into capable candidates and arranging marketed products to millions of patients. As a result, it is key to maintain pharmaceutical companies engaged in the efforts to limit AMR. Unfortunately, market incentives to develop and deploy antimicrobials (and, in particular, antibiotics) are weak. Urgent requirement for new antibiotics is the main reason for failure to achieve the desired market is simple. Yet, tight control on the drugs once they reach the market shall limit the risk of emergence of resistance. Moreover, in comparison with other conventional drugs, antibiotics are cheaper and taken for a shorter time period. These factors, together with significant scientific and regulatory hurdles, make high-volume and/or high-margin pharmaceutical markets less likely to develop.
Product Segment
Based on drug class, the global antibiotics market has been segmented into broad spectrum penicillins, cephalosporins, macrolides, quinolones, tetracyclines, narrow spectrum penicillins, trimethoprim & combinations, and others. Broad spectrum penicillins formed the largest segment in 2020, with more than 36% market share, contributing USD 11.99 billion. Broad-spectrum penicillins are invaluable in managing infectious diseases; yet, preventing their overuse is of utmost importance for avoiding infections that are being caused by multidrug-resistant organisms.
In low and middle income countries, broad spectrum antibiotics are randomly used for any condition by means of self-medication or from a chemist prescription. The pharmaceutical industry has a hold of widespread doctors and pharmacists exaggerating the efficiency of broad spectrum antibiotics and the message has filtered down to the end users. Medical practitioners are prescribing any available antibiotic for diseases such as typhoid, food poisoning and cholera. The perpetrator responsible in this situation is solely the authorities, which have failed to standardize regulations upholding the antibiotics market.
In India, fixed-dose combinations, of anti-amoebics like tinidazole and anti-bacterials like ciprofloxacin have become prevalent and are being used for all microbial diarrhoea. However, 90% of these diarrhoea cases are due to viruses and do not need medication. The remaining 9% cases are a result of bacterial or amoeba infection needing any anti-bacterial or an anti-amoebic, while the remaining 1% is due to a combination of bacteria and amoeba which requires a drug combination. Moreover, it turns out that only drug combinations are being used to treat all diarrhoea cases. These drug combinations are only marketed in India due to the negligent domestic regulations.
North America dominated the global antibiotics market in 2020. In 2015, doctors' offices, emergency rooms, and other outpatient settings in the United States prescribed over 270 million antibiotic prescriptions, resulting in an antibiotic prescription rate of 838 per 1,000 persons. Prescription rates, on the other hand, vary considerably between states, with larger numbers in the South and lower numbers in the West.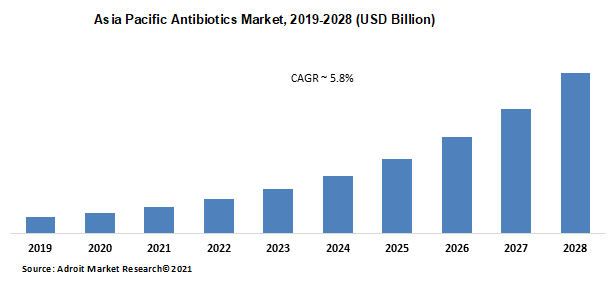 However, Asia Pacific is set to grow at a highest pace with a CAGR of 5.8% during the forecast years. Countries like India and China are among the prominent antibiotic consumers in the Asian region. There is a country wide income rise in these nations leading to increased ability to purchase antibiotics, along with large population base. Moreover, lax regulations governing antibiotics is the prime driver for antibiotics market in these countries.
Furthermore, growing antibiotic consumption, is the main cause for the burden of antimicrobial resistance (AMR), where bacteria increasingly becomes resistant to the drugs. India, hence, dominates the AMR burden. The prescription rates of antibiotics is although, less in the country as compared to the other regions, however when it comes to third and fourth line antibiotics, India taps a many countries.