Government support for the implementation of EHR systems, a rise in COVID-19 patient volume, and the desire to reduce healthcare costs are all driving the global ambulatory EHR industry forward.
Covid-19 Impact & Market Status
The global hospital capacity was overloaded when the COVID-19 epidemic broke out. In-patient beds were virtually all full, putting a strain on acute care facilities. Ambulatory care became even more important in the healthcare business as a result of this, since it provided an alternate location for required treatments. Certain non-essential and optional treatments were stopped during the peak of the epidemic. Outpatient treatments, on the other hand, were limited to ambulatory surgical facilities. Furthermore, combining various healthcare IT solutions with ambulatory EHR systems enabled physicians to have a better picture of their patient's health and make more accurate diagnoses. As a result, the COVID-19 pandemic, as well as the increased workload on healthcare workers, are expected to stimulate EHR demand.
The Cloud-Based Solutions Segment is accounted for the Maximum Revenue in the Predicted Period.
The cloud-based solutions sub-segment of the ambulatory EHR industry will account for the maximum share in the year 2020. The benefits associated with cloud-based solutions, such as flexibility and cost savings in healthcare delivery, are driving the industry.
The Practice Management Segment is estimated to grow with the Majority of the Market
Owing to the increased adoption rates of ambulatory EHR among healthcare providers, Practice Management is expected to have the highest CAGR throughout the estimated period.
The Large Practice Segment is likely to Rise with the Greatest Revenue in the Estimated Timeframe.
Due to factors such as the availability of capital expenditures, the capacity to handle productivity difficulties induced by new EHR adoption, the freedom to choose among suppliers, the large practices category commanded the highest share of the global ambulatory EHR market in 2020. On the other hand, owing to factors such as significant finance provided by REC (Regional Exchange Centers) to encourage small-to-medium-sized practices to adopt EHR, is predicted to have the highest CAGR over the forecast period.
North America Market for Ambulatory EHR will occupy the Majority of the Market Share in the Coming Future.
North American region dominated the industry with the top market revenue in 2020. The significant adoption of healthcare IT services by ambulatory centers in the United States, which is assisted by the existence of prominent market participants in the nation, is one of the main reasons for the huge market share. In addition, an increase in the number of surgical operations performed in ambulatory settings, as well as an increase in the need to control rising healthcare costs, is two important drivers driving this region's growth.
The market is growing owing to the favorable reimbursement rules, increased government and venture capitalist investments, and increased technological knowledge.
The healthcare information technology (HCIT) sector is often considered one of the fastest-growing industries, thanks in part to government requirements. EHRs are an important part of HCIT. Ambulatory electronic health records (EHRs) are a digital version of outpatient medical records. Demographics, progress notes, medicines, treatment plans, vital signs, previous medical history, vaccines, laboratory data, and radiological reports are all included. Healthcare practitioners may share information and interact more easily with one another thanks to ambulatory EHRs. During the forecast period, the ambulatory EHR market is expected to be driven by increased use of EHR systems, as well as incentives and payment changes. The global Ambulatory EHR market is anticipated to reach over USD 7.5 billion at a CAGR rate of 6.5% during the prediction period.
In any healthcare context, ambulatory care refers to patients who do not stay overnight for illness treatment. An EHR (electronic health record) is a patient's record that allows authorized personnel to view the patient's information securely. Through a network of linked technologies, EHR data may be exchanged across multiple healthcare settings, allowing physicians to make better decisions and deliver better, coordinated treatment for patients. Ambulatory EHRs are simpler as compared to inpatient EHRs since it is utilized in outpatient care facilities and slighter practices and it only deals with one practice as well as its patients. Medical history, demographics, allergies, personal statistics, medicines, vaccination status, laboratory test results, and other data are all stored in EHRs. EHR data may be transmitted across numerous healthcare institutions via network-connected systems or other information exchange technologies. EHRs allow clinicians to deliver more coordinated patient care as well as to make more informed decisions.
Factors such as increased usage by numerous healthcare facilities across developed economies and increasing government funding to maintain and upgrade patient health record portals are likely to fuel market expansion in the predicted timeframe. However, market development is projected to be hampered in the near future due to variable EHR adoption across emerging nations and regulatory constraints.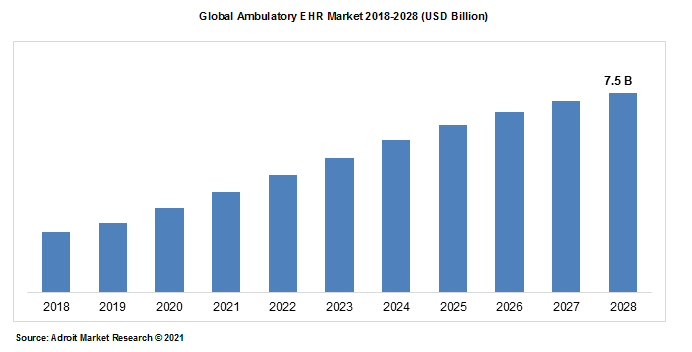 The market for ambulatory EHRs is fragmented, competitive, and dominated by a few big competitors. The majority of enterprises in the market are technologically sound, but they require considerable assistance in order to improve their offerings and grow their operations. As a result, mergers and acquisitions provide the major potential to attract the attention of a huge number of providers and hospitals from all around the developed world. Few new companies are projected to enter the market in the next years. Allscripts Healthcare Solutions Inc., eClinicalWorks, Athenahealth Inc., eMDs, Inc., Cerner Corporation, and others are some of the current industry participants.
Latest Innovations in the Global Ambulatory EHR Market: a Snapshot
In June 2021, CarePort Ambulatory, a system that enables ambulatory clinicians to better collaborate with home- and community-based organizations and follow patients across different settings, was launched.
In April 2021, Medical Information Technology Inc. teamed with MedPower, LLC to give online training sessions to hospitals that use MEDITECH's EHR systems, making the process of onboarding hospitals easier.
In January 2020, MTBC purchased CareCloud Corporation, allowing the company to improve operating efficiencies, accelerate growth, and give more flexibility for future development.
Doctible (US) and NextGen Healthcare (US) announced a partnership in January 2020 to integrate the Doctible platform with NextGen Office, a cloud-based EHR system that would allow healthcare practitioners to streamline back-office activities and get real-time feedback from patients.
The purpose of this global market research report is to provide you with an in-depth look at the global ambulatory EHR market. Throughout the forecasted time period, the research examines the market's growth potential, demography, and capacity. During the assessment phase, this component aids in assessing market size and projecting market growth.
Ambulatory EHR Market Scope
| | |
| --- | --- |
| Metrics | Details |
| Base Year | 2020 |
| Historic Data | 2018-2019 |
| Forecast Period | 2021-2028 |
| Study Period | 2018-2028 |
| Forecast Unit | Value (USD) |
| Revenue forecast in 2028 | USD 7.5 billion |
| Growth Rate | CAGR of 6.5% during 2021-2028 |
| Segment Covered | Delivery Mode, Application, Practice Size, Regions |
| Regions Covered | North America, Europe, Asia Pacific, Middle East and Africa, South America |
| Key Players Profiled | Allscripts Healthcare Solutions Inc., eClinicalWorks, Athenahealth Inc., eMDs, Inc., Cerner Corporation, and others are some of the current industry participants. |
Key Segments of the Global Ambulatory EHR Market
Delivery Mode Overview, 2018-2028 (USD Billion)
Application Overview, 2018-2028 (USD Billion)
Practice Management
PHM
Health Analytics
e-Prescribing
Patient & Referral Management
Practice Size Overview, 2018-2028 (USD Billion)
Large
Small-to-Medium
Solo
Regional Overview, 2018-2028 (USD Billion)
North America
Europe
Germany
France
UK
Rest of Europe
Asia Pacific
China
India
Japan
Rest of Asia Pacific
South America
Mexico
Brazil
Rest of South America
The Middle East and South Africa
Frequently Asked Questions (FAQ) :
Ambulatory EHR market is projected to reach USD 7.5 billion by 2028, growing at a CAGR of 6.5% from 2021 to 2028.
The global ambulatory EHR market is expected grow at a CAGR of 6.5% during 2021–2028.
The major application segments of ambulatory EHR in the industry are Practice Management, PHM, Health Analytics, e-Prescribing, Patient & Referral Management.
The base year for the report is 2020.
Allscripts Healthcare Solutions Inc., eClinicalWorks, Athenahealth Inc., eMDs, Inc., Cerner Corporation are considered to be the leading players in the ambulatory EHR market.